Proper footwear helps people with Plantar Fasciitis to relieve the heel pain which is characteristic of this condition! If you suffer from Plantar Fasciitis, the ligaments which link your heel bones to your toes have become irritated, weak and swollen.
Since the ligament, which has a flat shape and contributes to proper foot support, isn't working properly, the best shoes for plantar fasciitis will help to stop the discomfort, by providing a superior level of support.
10 Best Shoes For Plantar Fasciitis of 2020
Top 5 Women's Shoes for Plantar Fasciitis:
1. ASICS Women's GEL-Kayano 22
Best Women's Running Shoes for Plantar Fasciitis
For more than a few years, I have been a loyal fan of Nike's line of running shoes. However, with less than good experiences with my last pair, I decided it was time to switch over to ASICS and see if they were as good as people said they might be. After some searching, I ended up purchasing the ASICS Women's GEL-Kayano 22 Running Shoes. While not perfect, they more than met my expectations for what I wanted.
First, I managed to get the shoes pretty cheap. As long as you are not too picky about color, you can get a decent price. Coming in a full range of sizes, I had no issue finding a pair that would fit me. The shoes themselves are made up of a combination of synthetic material and a rubber sole. The mesh overlay as well as the removable insole made it easy for me to find a comfortable fit. In addition, the attenuate shock feature in the rear foot and forefoot have helped my re-occuring shin splints from coming up again. Even after several months of running, I've had little issue with the textured outsole decreasing its grips with ware and tare.
Three features are why I ultimately went for these shoes. First, they were designed for mild to moderate overpronators, which is me. Second, they are advertised as being excellent for long-runs, providing protection the entire way through. Finally, the support built into the shoe was a big bonus.
Pros and Cons
PROS
From what I've heard they have the best comfortable heel support that Asics can provide.
Work really well with orthotics.
Excellent for my pronation. Other people report it being great for even more severe cases.
Great choice if you have bone spurs.
Lots of interesting color options..
Pretty affordable depending on your foot size and color choice.
Has helped stop my shin splints from coming back.
Haven't experienced issues with my knees with these shoes.
CONS
They run a little small and a little narrow. On average it is about half a size. While ASICS will refund and replace the shoes with the correct size, it is still a hassle.
Require a little but of walking around to break them in. You should consider doing this before your first run.
Fewer side support bands than I am used to.
Consider using with thinner socks due to size different and snug fit.
While I had no issues with construction, other people have reported some issues with how the shoe is put together.
Where does that leave us? Minor problems aside, I am more than happy with my pair of ASICS Women's Kayano 22 running shoes. My biggest issue was finding shoes that fit my over pronation as well as potential for injury flare ups to return. While I am not the fastest runner in the world, I can run pretty far, making a reliable shoe critical to me exercising. So far, the Kayano 22 has yet to let me down. Holding up pretty well even into the winter months, I think I might prefer ASICS over Nike going into the future.
2. Vionic Women's Walker
Best Women's Walking Shoes for Plantar Fasciitis
If you're female and you're interested in finding a truly comfortable walking shoe, you'll benefit from discovering the Vionic Women's Walker Classic Shoe. This sturdy pair of walking shoes offers plenty of great features for a reasonable price.
These shoes are comfortable, supportive and built to last. They are also available in dark shades, neutral colors and fresh white tones. Choose your favorite color and preferred size and then prepare to enjoy walking. You'll find that these durable walking shoes are attractive and that they provide a superb amount of support and comfort.
We love these shoes because it feels good to wear them. They also have a low-key appearance which will appeal to women who don't like fussy, overdone footwear. Crafted from genuine leather, with man-made soles, these walker shoes have mid-soles which are designed to absorb shocks. The mid-soles are made with EVA and this modern material is known for its shock-absorbing power.
As well, when you choose these shoes, you'll find that they feature rubber outsoles which are really flexible. In addition, they come with a bit of mesh in the leather uppers, which enhances comfort and flexibility. These walking shoes have uppers which are lined in polyester and their sock liners are also made from polyester.
Pros and Cons
PROS
Affordable
Traditional walking shoe design
Different colors available
Genuine leather
Man-made soles
Shock-absorbing midsoles
Polyester sock liners and upper liners
CONS
Style isn't cutting-edge (basic look)
No bright colors available
These Are Popular Walking Shoes
These shoes are very supportive and comfortable. This means that they'll help you to walk more comfortably, even if you have heel pain, such as plantar fasciitis. Nurses buy these shoes in order to access the comfort and support that they need during long shifts on their feet. However, they are also popular with women who just want really good walking shoes. When you select these highly-rated walkers, you'll find that you're able to walk for long periods of time without getting sore. They have the right mid-soles, soles and cushioning and this is why they offer plenty of value for the money.
As well, they look nice. While they certainly aren't high-fashion shoes, they have a traditional and pleasing appearance and they'll go with a variety of outfits, from sportswear to jeans to casual skirts. Choose a shade that you like and then prepare to be amazed by the comfort that these shoes provide. They are definitely impressive options for women who put comfort first. As well, they are great for those who tend to have discomfort when walking. They provide the sort of support which is therapeutic and this is why they earn accolades. As well, they are made by a company with a strong and positive reputation.
Now that you know more about Vionic women's walkers, you'll be able to decide whether or not they meet your needs. If you want premium comfort without needing to spend a fortune, these may be the practical and attractive walking shoes that you've been looking for.
3. Skechers Performance Women's Go Walk 3
Best Women's Work Shoes for Plantar Fasciitis
If you want to find walking shoes which offer the ideal blend of style, comfort and support, you"ll benefit from learning about Skechers Performance Women's Go Walk 3 Slip-on Walking Shoes. These attractive shoes comes in thirteen colors, from basic black to bright pink and beyond, and they provide amazing cushioning. These Skechers designs get glowing reviews because they offer the highest standard of comfort.
When you choose these affordable walking shoes, you'll find that they make walking a total breeze.
Today, we'd like to share more information about these walking shoes and all that they have to offer…
Main Features and Benefits
The uppers of these shoes are made from a blend of fabric and synthetic materials. The uppers have a "knit" appearance and feature stitching of the zig-zag type, as well as pull-tab cut-outs at the heels. The shoes are attractive, with a simple, sleek design and sturdy soles. The soles are crafted from high-quality rubber.
When you choose these shoes, you'll find that they have innovative foot beds which are cushioned with Ortholite. As well, you'll be pleased to know that these designs have sock liners which are anti-microbial. As well, each shoe features a mid-sole which is crafted from a type of comfort foam known as Resalyte. As well, the out soles of these shoes are fitted with GOimpulse sensors.
Pros and Cons
PROS
Fabric and man-made upper
Sole made from rubber
Design is imported
Knit details on uppers
Pull-tab cutouts at heels
Cushioned footbed
Anti-microbial sock liner
Midsole made from comfort foam
Outsoles have GOimpulse sensors
CONS
May be better for wider feet
May need to be broken in
These Shoes Look Great with Everything
If you want versatile footwear which is designed to look great with a host of outfits, from yoga pants to jeans and t-shirts, these are the walking shoes that you've been waiting for. Their knit-style uppers are so attractive and their typical Skechers soles give them a little bit of modern edge. After you try these shoes, you may wonder why you didn't buy them earlier. They are loaded with great features and they definitely won't bust your budget.
If you suffer from plantar fasciitis or other foot pain issues, you may find that these walking shoes are perfect for your needs. They'll give you shock-absorbing support which may relieve discomfort and allow you to walk comfortably for longer periods of time.
As well, you'll be pleased to know that these shoes are well-made. They are crafted with care, so they'll be durable and stand up well over the long haul. Maintaining them should be easy. Just wipe them off with a damp, clean cloth when you need to clean them.
4. Skechers Sport Women's Loving Life
Best Women's Sneakers for Plantar Fasciitis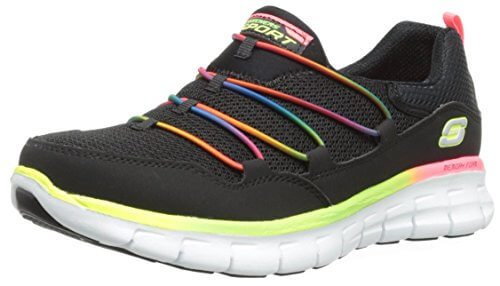 Getting old isn't fun. But it doesn't have to be a complete drag. When searching for a comfortable pair of shoes that could help me stay mobile despite the poor quality of my feet, I ended up looking in a number of different places. Ultimately, I fell upon Sketcher's line of shoes. While I was first hesitant with the Skechers Sport Women's Loving Life Memory Foam Fashion Sneakers, my apprehension vanished when I tried them on for the first time. Comfortable, soft, and supportive, they ended up being exactly what I wanted. Being colorful doesn't hurt either!
The shoes themselves are made of a mix of synthetic and textile, with rubber soles. A slip on sneaker that is easy to put on, the breathable mesh on top makes ventilating my feet a peace of cake. The memory foam inside keeps the experience of walking in these shoes comfortable while the flex grove exterior keeps me stable even in less than ideal weather. While I think the advertising campaign is a little corny, the shoes are nothing but excellent for my needs.
Sizes range from size 5 to size 11. Five different colors are available to choose from and prices are far lower than what you will get with the competition. The shoes are pretty lightweight, with the shipping box weighing only 2.3 pounds. So far, the shoes have managed to hold up pretty well through multiple months of using them both when walking through the house as well as when exercising outside.
Pros and Cons
PROS
Comfortable and fun to wear.
Inexpensive compared to other models on the market.
Lightweight and easy enough to carry around or wear.
The style of the shoes is fun and cute.
They have much more give to them, making them great to slip on and slip off.
Excellent when working around existing conditions with your foot.
CONS
The shoes can run up to a half size smaller than other shoe brands. Consider trying them on in a store before ordering them online to make sure the size is right. When in doubt, order a half size larger and consider wearing thinner socks.
While I haven't had this problem, some people report it rubbing against their heel the wrong way.
May not have the same level of support for the bottom of the arch of your foot that you may be used to when switching over.
May not be the best option if you have wide feet as the slip on design provides less support for sides.
The sole of the shoe feels a little thin compared to other brands.
In the end, I am very happy with my purchase. My goals are to continue exercising and be healthy. Having these shoes so far has meant me not having to worry about my feet. The benefit of not having to worry has been freeing. I've had more time to pay attention to the kind of exercise I am getting and I feel like I am making progress as a result. Every person will have their own unique reaction to this brand. However, from my experience, I would definitely recommend Skechers if you want a lightweight and slip-on/slip-off shoe.
5. Vionic with Orthaheel Tide II
Best Women's Sandals for Plantar Fasciitis
If you want a comfortable and stylish women's sandal, you'll benefit from discovering the Vionic with Orthaheel Tide II Women's Sandal. This popular design is affordable and has plenty of great features. Today, we'd like to share all of the most important information about this design, which comes in twenty-one different colors!
These Sandals Are So Easy to Wear
These sandals do offer superior comfort, thanks to their rubber soles and rugged, man-made uppers. They are imported sandals and you'll find that their design promotes comfort, even if you're on your feet all day long. These sandals are best for women who like thong-style shoes. They feature nice cushioning on the insole and this padding takes away a lot of stress on the knees, ankles and feet.
As well, this design features Orthaheel Technology, which helps to ensure proper foot alignment. Lastly, you should know that these sandals have mid-soles which absorb plenty of shock and that the shoes are very light in weight. As you can see, these sandals do offer a range of wonderful benefits for an appealing price. They are inexpensive enough to collect in different colors and it will be nice to know that you don't need to spend a bundle in order to look and feel good. These are great walking shoes which are very easy to put on and take off.
Pros and Cons
PROS
Affordable
Comes in many colors
Very positive customer reviews
Sleek, modern look
Versatile (will go with many outfits)
Nice cushioning for premium comfort
Quality mid-soles and soles
CONS
Uppers aren't real leather
Darker sandals may transfer color to wearer's heels
Are These Sandals Right for You?
Sandals are so convenient and breezy. They don't feature laces or other fasteners, which means that it's possible to slide them on and off anywhere, from home to the sandy beach and beyond. We believe that these sandals offer quite a bit of value for the money. In particular, we're impressed with their Orthaheel design, which promotes exceptional comfort.
Once you've treated yourself to a pair of these lovely sandals, you may find that you wear them again and again. They are great choices for women who like things simple and basic. They aren't embellished, so they are pretty sleek and sophisticated. They do feature the Vionic brand name. However, the name is embossed and it doesn't stand out too much. Overall, the sandals do have low-key style and they'll look great with shorts, pants, dresses and jeans.
Now that you know more about the Vionic with Orthaheel Tide II Women's Sandal, you'll be able to decide whether or not it suits your needs. If you want the highest level of comfort, as well as good support, a stylish upper and an affordable price tag, you'll find that these Vionic sandals tick all of the boxes. They are fine choices for summer or for anytime when you need footwear which is simple to slip on. For example, you'll be able to put them on in an instant if you need to run the garbage out to the curb or dash out to the corner store.
Top 5 Men's Shoes for Plantar Fasciitis
1. ASICS Men's GEL Venture 5
Best Men's Running Shoes for Plantar Fasciitis
If you want a high-quality running shoe which is produced by a trusted manufacturer, you'll benefit from discovering the ASICS Men's GEL Venture 5 Running Shoe. This impressive design has a sporty and modern look. However, it offers much more than good looks alone! ASICS Men's GEL Venture 5 Running Shoe Reviews
Available in nine color combinations, including Silver/Light Gray/Royal and Dusky Green/Black/Cinnamon, this supportive and comfortable runner is definitely a solid investment. You'll find that it's available for an affordable price and that its array of features are designed to make running and walking truly comfortable experiences.
Today, we'd like to share more information about these running shoes and all that they have to offer…
Main Features of These Sneakers
Running shoes should be designed with comfort and support in mind. These shoes do have great comfort and support features. They also have imported design. When you choose these ASICS runners, you'll find that they feature durable rubber soles which are designed to absorb shocks. As well, you'll find that they feature GEL cushioning in the rear foot portion. This cushioning pampers the back of the foot!
The synthetic and mesh uppers of these running shoes feature mesh underlays and brushstroke patterning. Each sneaker comes with a sock liner which is detachable. If you want to, you may add your own orthotics. As well, you'll find that the outsoles of these shoes are equipped with reverse-traction lugs, which make them perfect for walking or running on trails. The rubber outsoles of these designs are reinforced in areas of the shoes which are considered "high-wear".
Pros and Cons
PROS
Manmade uppers with mesh details
Design is imported
Soles are durable rubber
Suitable for trail usage
Attractive brushstroke patterning on uppers
Reverse traction lugs on soles
AHAR rubber on high-wear portions of outsole
Affordable
Many color combinations
CONS
Heel fabric may wear down too fast
Hiking sneaker feel
Are These Runners Right for You?
Good running shoes make it easier to stay fit. These men's runners are definitely of high quality and their GEL cushioning is probably one key reason why they are strong sellers. If you want impressive support and comfort, without needing a spend a bundle, you'll find the affordability of these well-made sneakers to be a plus. As well, they do look good, so you won't need to sacrifice style in order to access the comfort and support features that you need.
These sneakers are ideal for those who like to exercise out of doors, on trails. The soles are perfect for trail walking and running. Also, they are made in order to accommodate orthotics, so they are ideal for those who do want to add orthotic inserts to their runners.
Order a Pair Today
Now that you know more about these superb ASICS shoes, why not order a pair today? They are simple to find online and they come in a wide array of sizes. Choose your favorite color and then prepare to enjoy the highest standard of comfort, whether you're out on the street or walking or running local trails.
2. New Balance Men's M990v4
Best Athletic Shoes for Plantar Fasciitis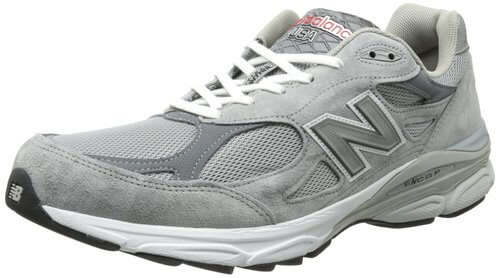 I've learned that staying active means investing in good quality workout gear. Chief among the things I own are my running shoes. I've never been much of an bodybuilding type, choosing instead to go for the overall aerobic benefits of runs. When searching for my new pair of running shoes, I was looking for a pair that could handle 3-4 runs per week of upwards of a half marathon length. For the most part, I'm really satisfied with the New Balance Men's M990v4 Running Shoe.
Light and comfortable the M990v4 is priced just about right for what I would expect to pay for a good quality running shoe. Coming in more than 10 colors and just about every size, I had no problem picking a pair to my liking that also felt good to wear. Unlike cheaper running shoes, New Balance used leather and fabric combination to create a sturdier shoe. With a rubber sole, the shoe includes a dual-density collar around the ankle as well as a padded tongue. Lightweight cushioning is provided by the blown-rubber forefoot. Last but not least, the reflective detailing makes them subtly stylish.
I've owned several pairs of New Balance thanks in part to the fact that they assemble a lot of their shoes in the United States. As you might expect, New Balance shoes are a little heavier than some of the alternative shoe brands out there. That being said, I've had a lot of luck with them lasting despite frequent use. Continuing in the trend of creating durable and dependable shoes, New Balance did not let me down with their M990v4.
Pros and Cons
PROS
Comfortable to wear and feels sturdy.
Comparably priced with other New Balance shoes.
Also great for those who like to walk or suffer from arthritis.
Backed by the strong performance of New Balance and dedication towards quality .
Excellent for longer runs.
Unlike other brands, New Balance does a great job fitting the shoes to the correct sizes.
A lot of different color options to choose from.
CONS
Heavier that alternative brands.
Some people have reported that their shoes emit a strong odor after a few months of use. I've yet to experience this personally but it is worth mentioning if you don't want to take the risk.
The sole may wear out quicker.
The shoes perform worse after getting wet. You will have to try and keep them dry.
One of the biggest problems mentioned by others are that they emit a terrible odor, especially if they get wet. While I can't discount what they've said, I have not had that experience personally. Still, you may want to consider this when purchasing a pair. Moisture isn't much of an issue where I live and I have yet to have issues with the shoes breaking apart under wear and tare. From my personal experience, I would recommend these shoes to anyone who wants a reliable pair of running shoes that fit well. To everyone else, consider going with a different brand or type of New Balance shoe.
3. New Balance Men's MW411V2
Best Men's Walking Shoes for Plantar Fasciitis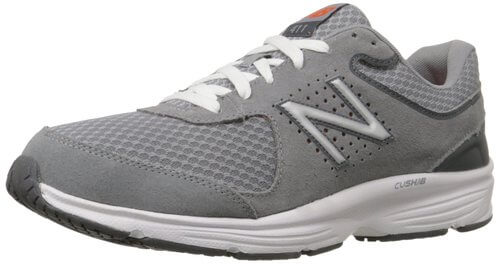 Are you a guy who's in the market for a new walking shoe? If the answer to this question is, "yes", then you'll benefit from learning about the New Balance Men's MW411V2 Walking Shoe. These attractive and practical shoes come in five different colors, which are black, grey, white/blue, blue/grey and black/grey. They feature durable synthetic uppers, as well as sturdy rubber soles. Each shoe has perforated details on its upper, as well as an applique of the New Balance logo.
Why Choose These Walking Shoes?
Some people choose these shoes because they have foot pain issues and find that these walking shoes provide enough support and cushioning to alleviate or minimize discomfort. Others simply want comfortable shoes in general and trust the superb New Balance brand.
It's definitely true that New Balance gets tons of respect. In fact, an awful lot of runners rely on New Balance shoes in order to perform at their best. This walking shoe is a perfect example of New Balance quality. However, it's designed specifically to make walking easier. It's not a running shoe like most New Balance designs.
Now, let's look at some product pros and cons…
Pros and Cons
PROS
Rugged man-made upper
Design is imported
Sole is crafted from rubber
Lace-up design for perfect fit
Perforations on uppers
Comes in different color choices
CONS
Some parts of the shoe may wear out a little too fast
May be better for narrow feet
Are These Walking Shoes Right for You?
If you want comfort and support and you prefer to buy a respected brand, these shoes may be right for you. They are quite reasonably-priced, they look good and they feature a great level of support. As well, they are cushioned enough to pamper feet during walks.
Also, if you prefer low-key style, you'll find that these designs offer a traditional, basic appearance. They aren't flashy or overdone. This means that they'll blend well with sportswear or casual wear, without standing out too much. All of the color combinations which are offered are pretty subtle.
It's not necessary to spend a fortune on walking shoes. It is possible to access a high-quality pair of these types of shoes, without a big cash outlay. These walking shoes from New Balance are strong sellers and you'll find that choosing them gives you access to premium support and comfort. If you're someone who walks a lot and you want to pamper your feet while you do it, you'll find that these shoes are fine choices. As well, those who suffer from foot discomfort, such as plantar fasciitis, will find that these shoes provide exceptional benefits, in terms of taking pressure off of sore spots and promoting proper foot alignment.
Order These Walking Shoes Today
Now that you know more about these walking shoes, why not treat yourself to a pair today? When you do, you'll find that you're doing something nice for your feet. As well, you'll be purchasing a premium brand which is truly second to none.
4. Brooks Men's Addiction Walker
Best Men's Sneakers for Plantar Fasciitis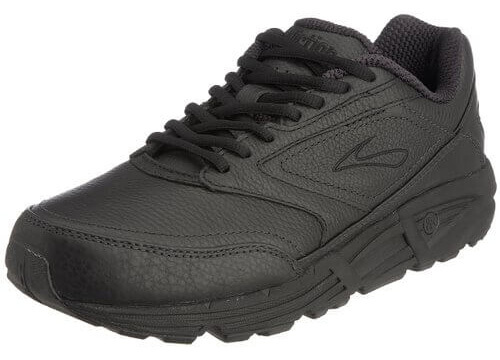 I rarely write reviews but I decided to give my two cents regarding the Brooks Men's Addiction Walker Walking Shoes. When looking for a new pair of shoes online, I saw mostly reviews that were either pure love or pure hate. I don't know about you, but I've rarely had a pair of shoes fit either category. So instead, I will give you an honest review of how buying these shoes have turned out.
The Brooks Walking Shoes are an all around decent buy that I have few complaints about. The shoes are leather over a synthetic sole. This makes them a bit nicer and more reliable than some of the other brands out there. Now I needed a shoe I could wear when on my feet at work and when at home. I found these shoes to be pretty comfortable, thanks in part to the 4" shaft from the arch as well as the midsole cushioning. The triple-density medial side manufacturing was another benefit that I really appreciated from these shoes.
I managed to score a pair of these shoes pretty cheap, thanks in part to the fact that one of the three colors was a bit less expensive than the others. At the same time, Brooks did a good job offering their shoes in a wide range of sizes capable of even meeting my larger than average feet. A little heavier than my jogging shoes, they are none-the-less a solid addition to my shoes and a pair I am more than happy to take with me. As a final thought, their three color options I find to be professional enough for the work I do, making them even more worthwhile in my book.
Pros and Cons
PROS
Excellent selection if you have wider than average feet and you need shoes that are comfortable and dependable.
Excellent for larger guys who are above average weight and looking for plenty of support from their shoes.
Cost significantly less than the hundreds of dollars you would otherwise have to spend on orthotics to provide a similar level of support and protection.
Professional looking enough to be good for my work.
I've had no issue with the shoes falling apart even after several months of wearing them.
Arrived quickly.
Helped me recover from plantar-fasciitis.
CONS
The shoes are a little heavier than typical workout shoes, due in part to their added support. Be aware of this if you need lightweight shoes.
Some individuals have had issues with the stitching coming apart. I have yet to experience this.
The Brooks Men's Addiction Walker Walking Shoes definitely fit a special niche in terms of when I use them. While I have another pair for exercise, these shoes are perfect for when I have to be on my feet and look presentable. A lifesaver in terms of saving me aches and pains, I would recommend them to anyone looking for a comfortable, versatile, and potentially inexpensive pair of shoes. Minor problems aside, Brooks has yet to let me down.
5. Vionic Men's Ryder Thong
Best Men's Sandals for Plantar Fasciitis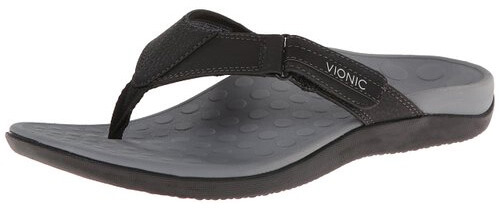 If you're a guy who's searching for a new pair of sandals, you may want to consider Vionic with Orthaheel Technology Men's Ryder Thong Sandals. These designs have so many great features and you'll find that they are also very affordable.
Available in black, chocolate and taupe shades, these sandals feature high-quality leather uppers, as well as durable rubber soles. Today, we'd like to share more details about the features and advantages of these impressive and popular shoes.
These sandals are for men only and they offer a great combination of good looks and comfort features.
Why Choose These Sandals?
These summery Vionic shoes come from a respected brand name and they feature attractive, genuine leather uppers and imported design. As well, they have rugged rubber soles, so they are definitely great walking shoes. When you choose these sandals, you'll find that they feature Vibram outsoles which provide a great deal of traction in an array of environments. In other words, they'll be great for pounding the pavement or for walking on trails out of doors.
In addition, these sandals feature orthotic footbeds which are crafted from three-ply EVA. It's all about support and comfort and these shoes have been designed in order to pamper feet. They have a good degree of rear-foot stability, as well as plenty of cushioning. Forefeet portions and heels are both cushioned.
As well, these designs come with adjustable straps of the hook-and-loop type. This means that you'll be able to adjust them in order to access premium fit. These styles are available in a D width, which is classified as medium.
Pros and Cons
PROS
Genuine leather uppers.
Design is imported.
Soles are made from rubber.
Virbram outsoles offer excellent traction.
Orthotic footbeds are crafted from EVA with three layers of density.
Adjustable straps with hook and loop closures.
CONS
Some people don't find thongs comfortable.
Few color options are available.
These Sandals Are Very Versatile
Whether you want sandals to wear with khaki shorts or sports wear, or just with the typical pair of jeans, you'll find that these Vionic designs are very versatile. They are going to look good with everything and they will help you to polish your personal style.
As well, they are made with care by a great shoe manufacturer. Vionic is known for its supportive and comfortable shoe designs and these sandals definitely deliver in terms of comfort and support. As well, they don't cost a lot, so you'll be able to choose a couple of pairs for the price of most designer sandals.
Now that you know more about these shoes, you'll be ready to decide whether or not they are right for you. We recommend them if you want highly-rated, best-selling sandals which are very easy to slide on and off. Since they do have good cushioning and rugged soles, you'll find that they hold up well over time and give your feet the pampering that they need. You'll find these shoes at larger online retailers, for great prices.
How to Choose Good Shoes for Plantar Fasciitis?
We've talked about the three elements which are important. They are heel support, arch support and heel cushions. When deciding, "What is the best shoe for plantar fasciitis?", you should consider this trio of elements carefully.
Heel Support
Heel support helps with stability and protects the heel. For example, good sneakers for plantar fasciitis will typically offer premium heel support which makes it simpler to run and walk without discomfort. The heel won't move around and it will be supported via high-tech protective materials which are durable and designed to alleviate or minimize discomfort.
One example of a pair of running shoes which is renowned for providing great heel support is the ASICS Men's GEL-Nimbus 15 Running Shoe. These sneakers are just one option and they are probably best for those who have high arches. Shoes with support for plantar fasciitis will help you to stay fit without causing heel damage. They are also great for running errands and other types of activities.
Good Arch Support
Arches also need good support and the best foot support for plantar fasciitis shoes will have plenty of arch support within the mid-soles. These shoes for those with plantar fasciitis pain are widely available and one example is New Balance M1540 v2 sneakers. Again, this is just one recommendation. However, these sneakers are known to provide the level of mid-sole support that people with heel pain issues need in order to feel good while they are moving.
Heel Cushions
Shoes for plantar fasciitis pain should have heel cushions, as well as heel support and mid-sole support. Heel cushions protect the heels from pain and damage. When answering the question, "What is the best footwear for plantar fasciitis?", it's important to consider heel cushioning. The most comfortable shoes for plantar fasciitis, such as Brooks Adrenaline GTS16 runners, will definitely cushion heels and provide ultimate comfort for a fair price.
Look for Tough and Durable Shoes
If you're going to spend money on good sneakers for plantar fasciitis, you should make a point of finding tough and durable styles. You're going to want to get a lot of wear out of your new runners. Tough and durable shoes for plantar fasciitis pain are made from good materials. For example, they may have leather or rugged man-made uppers which are constructed in order to stand the test of time. As well, their interior design elements, such as arch support plantar fasciitis in the mid-sole, should be crafted from fine materials which will offer long-term support. Checking customer reviews of sneakers that you're interested in should be helpful.
When you shoes which perform well over the long term, based on a lot of great reviews from a lot of people, you'll be on the right track. The best footwear for plantar fasciitis may just be the best cure for plantar fasciitis. Experts also recommend resting the feet whenever possible. For example, when you're at home, elevate your feet whenever you can. Experts also recommend that people with plantar fasciitis wear the best shoes to help plantar fasciitis while they are at home, moving around. While you may not be used to wearing shoes in the home, keeping a clean pair of sneakers handy for home activities will be a great way to treat this common heel pain issue.
You'll Need Comfortable Shoes
Knowing the right level of arch support, based on your own arch height, will help you to access the best heel support for plantar fasciitis. It will give you the capacity to find shoes which are perfect for your feet. We're all different in that regard, so we do recommend determining your heel height.
However, the styles that we've recommended here seem to be proven winners for a lot of people with plantar fasciitis. These best cushioned shoes for plantar fasciitis definitely helps a lot of people to get the arch support, heel support and heel cushioning that they need! These best cushioned shoes for plantar fasciitis are high-quality running shoes and they have all of the design elements that people who suffer from chronic or sporadic heel pain need.
Look for Midsole Stability
Midsole stability is really important and we recommend finding shoes which are known for having this vital feature. The midsole should be tough and supportive enough to absorb a lot of shock, so finding a shoe which is renowned for its shock-absorbing properties will be a smart shopping strategy.
How Can Shoes Help Your Plantar Fasciitis?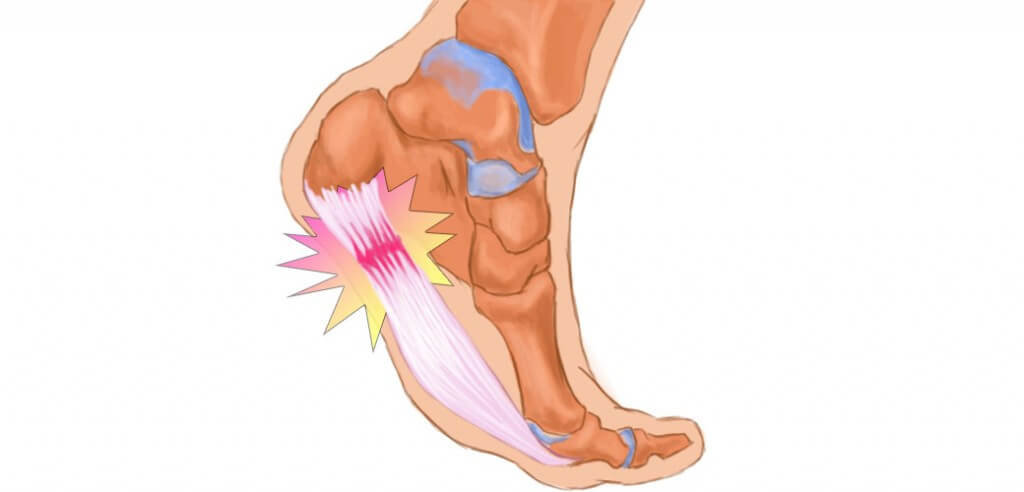 When deciding how to treat plantar fasciitis, a doctor's care will be very important. You should take care to follow your physician's advice and our guide isn't designed to be a substitute for medical care from a licensed doctor. However, choosing the right shoes will be very helpful. Good shoes for plantar fasciitis will provide enough support to cushion ad protect damaged plantar fascia and this wearing these types of shoes for plantar fasciitis will be the key to feeling more comfortable while you walk, run and perform other physical activities.
Fashionable shoes for plantar fasciitis are out there! You may choose from sneaker for plantar fasciitis and cute shoes for plantar fasciitis. As well, there are foot inserts for plantar fasciitis and foot splints for plantar fasciitis. As you can see, there are a lot of footwear options and shoe accessories, so you'll have plenty of choices. Recommend shoes for plantar fasciitis. In general, investing in good support shoes for plantar fasciitis will be the smartest option. You'll find some affordable choices. If you are budget-conscious, going for inserts or splints may make more sense financially. However, you'll find that the cost of shoes for plantar fasciitis isn't really any different than the cost of buying regular shoes. Also, lots of footwear for plantar fasciitis is available online, so shopping via the Web will be a good way to enjoy a world of selection.
In terms of selecting shoes that help plantar fasciitis, you should be looking at three elements and trying to find footwear which offers all of them. These elements are supple cushioning, premium arch support and good heel support. To access the support and protection that you need, you should also consider your arch height. The degree of arch is also known as pronation. Some people don't pronate as much as others they when walk and they have low arches. Others pronate in a typical way and they have normal arches. Those who over-pronate have high arches.
If you need help with analyzing your gait and deciding on a degree of pronation before buying shoes for heel pain plantar fasciitis, a footwear or orthotics expert should be able to help. You may also find tips online which help you to understand your own gait and arch height.
Once you know your degree of arch, you may be able to find good support shoes for plantar fasciitis which are custom-engineered for your specific arch height. This will be one of the best ways to get the highest level of support from your shoes. Shoes that help plantar fasciitis are out there and so are shoe orthotics for plantar fasciitis!
Advantages of Using Plantar Fasciitis Shoes
Feeling better is what it's all about! This is why people who buy the right shoes for this condition typically experience a lot of relief, fast! Basically, the right shoes are going to make it easier for you to get the support, comfort and protection that you need. Some shoes don't have the right elements and many may make plantar fasciitis worse. For example, women who wear high heels may find that these shoes don't help them to feel better. As well, cheap and flimsy sneakers won't get the job done.
It's better to shop around, check out our recommend styles and do some more research of your own before you buy. See what customers have to say about specific sneakers and how they perform in terms of comfort, support, cushioning and durability. We're lucky to live in a time where it's really easy to find detailed feedback about a range of running shoes and walking shoes.
If you're interested in buying walking shoes, the Birkenstock Unisex Arizona is known to provide a lot of benefits, as are Classic Crocs. If you want more style than these shoes provide, consider Vionic Walking Shoes or Orthaheel Walker Shoes. There are tons of great options to suit any taste. It's about choosing trusted brands and styles which are known for babying feet and making walking easier and more comfortable.
Benefits of Choosing the Right Shoes
At this point, we've talked about why choosing shoes with the right heel cushioning, heel support and arch support is so important. These three design elements work together in order to help people with plantar fasciitis to alleviate pain and walk or run with ease. The benefits of choosing the right shoes are clear. It's just a matter of finding a pair which suits your budget and tastes.
What Causes Plantar Fasciitis or Heel Pain?
Usually, plantar fascia absorb shocks, like bowstrings do. They support the feet. If too much strain is placed on these "bowstring" ligaments, the fascia may tear and stretch too much. If this does happen, the fascia may get inflamed.
Sometimes, there is no clear cause for this heel pain health issue. However, in other cases, it's linked with aging. People who are between the ages of forty and sixty tend to suffer from Plantar Fasciitis more often. As well, people who are very active and participate in certain physical activities, such as running long distances, doing ballistic jumps, performing ballet moves and doing aerobics, are more likely to develop Plantar Fasciitis.
As well, those who suffer from flat feet, high arches and unusual walking patterns tend to be at risk. In addition, people who are overweight may have higher odds of developing the condition. Also, people who stand a lot during work, on surfaces which are very hard, may experience damage to plantar fascia ligaments.
How to Deal with Heel Pain?
One tip is to try and limit how much you use your feet each day. In other words, try to take a break from some of the daily activities which trigger your heel pain issues. This means walking and running as little as possible, especially on surfaces which are hard. For example, walking and running on concrete is not recommended while you're experiencing plantar fasciitis symptoms.
As well, you may want to take pain relievers which are known for their anti-inflammatory properties. Advil and Motrin are popular choices for safe and convenient, low-cost pain relief. There are also creams and ointments which relieve pain.
Icing your heels will also help to numb discomfort and take down swelling. Use this drug-free treatment alongside over-the-counter pain relievers or on its own.
Final Thoughts
Lastly, find the right shoes! Hopefully, our detailed guide will make this a lot easier to do! After you do buy the right shoes for plantar fasciitis, you'll be ready to access treatment on the go. While you should try to take it easy while you are having symptoms, you will always need to move sometimes and wearing the right shoes will make it easier to get things done without heel pain. While shoes won't cure this condition, they will help a lot and so many awesome styles are out there for affordable prices. So, why not do some shoe shopping today?
Sources:
AOFAS, Plantar Fasciitis Treatments
NHS, How you can ease heel pain yourself
wikihow, How to Tell if You Pronate