Being a chef might seem glamorous and fun, but it's actually hard work. Working in a kitchen entails long work hours, most of it spent standing in one place. There's also an element of danger. Aside from slippery floors, there's the possibility of hot oil, burning liquids, and sharp knives falling on one's foot.
This is why chefs and cooks need the right footwear for the job. Read on to find out more about how to find the best kitchen shoes.
10 Best Kitchen Shoes 2020
Top 5 Women's Shoes:
1. MOZO the Maven
The MOZO Women's the Maven is not your typical work shoe. It features a sneaker-like design which is one of the most stylish and versatile work shoes you can find. Aside from that, it is also packed with features that make it perfect for use for standing all throughout the day.
The MOZO the Maven is primarily made of high-quality canvas material which is durable enough to be used no matter where or what your workplace. The toe cap made from rubber also adds to the durability of this work shoe.
Unlike other shoes, these work sneakers are designed with extremely lightweight materials, making sure that there's no additional strain on your feet at the end of the day. While it has soles in design, the footwear comes with an elasticized entry for easy slip on and off. It also features three-hole ventilation for breathability, perfect for use in long hours.
2. Skechers Work Sure Track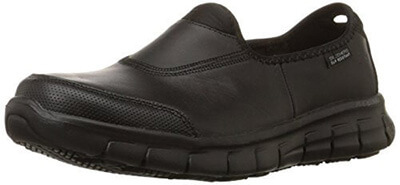 The Skechers Work Women's Sure Track might be simple at first glance, but it is an extremely functional work shoe from Skechers. It features a smooth but stable leather upper which guarantees its durability for long hours of work.
This footwear has a casual slip resistant shoe design to ensure safety in whatever work you are in. Its heel overlays and protective leather also adds to its safety accents.
Comfort is also part of the design of the Skechers Work Sure Track. It is equipped with a soft fabric collar trim and a soft shoe lining.
In addition, it has a removable insole that offers utmost comfort with its memory foam cushioning which can perfectly fit the shape of your feet. Its RelaxedFit shoe design is also an added comfort feature.
The rubber sole that comes with Skechers Work Sure Track is not only slip-resistant, it is also resistant to oil and other chemicals and is OSHA compliant.
3. Skechers Soft Stride-Softie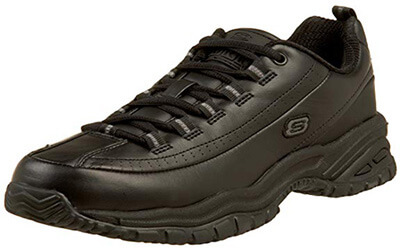 Like most Skechers footwear, the Skechers Soft Stride-Softie is also made with top-notch quality materials. It has a soft upper constructed from leather, making it durable footwear for any workplace.
The great thing about this material is it is also stain and scruff resistant which makes it easy to clean — you won't even need to be clean it all the time. It features a durable and tick heel at just 1.5 inches to provide comfort for use in a long day.
This footwear also offers extreme comfort with its adequate cushioning and features great arch support which can accommodate even those with high arches. It also has a removable contoured PU insole for additional support.
The outsoles of this Skechers footwear is not only slip-resistant but also compliant with OSHA requirements. With its durable thread covering, the Skechers Soft Stride-Softie can withstand prolonged wear.
4. KEEN Utility PTC Oxford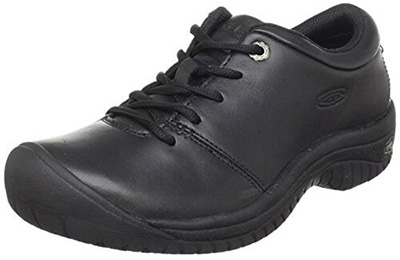 KEEN is another one of the popular brands for work shoes, and its KEEN Utility PTC Oxford is feature-packed for all-day standing use.
This particular footwear considers safety first and foremost, and it shows from the features it is equipped with. It is built with a soft toe with KEEN patented toe protection that can withstand wear and tear even in tough conditions.
Comfort is also something this KEEN footwear is built for, especially with its PTC Dress Oxford design. It combines cork, recycled PU, and memory foam that can perfectly adapt to the shape of your feet, giving it utmost comfort and support.
The KEEN Utility PTC Oxford is also designed with non-marking and oil and slip-resistant outsoles, giving enough traction to keep you on the ground and avoid slipping. With all this including its compression molded midsole, elastic panel, and stability shank, this footwear is perfect for working all day.
5. Skechers Sure Track Trickel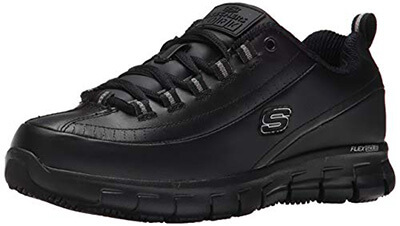 The Skechers Sure Track Trickel is one of the best work shoes that offers extreme comfort from the leading brand. With this footwear's features, it would be ideal for use in hospitality trades.
It has a smooth upper made from leather which speaks highly of its durability to withstand daily wear and tear. In addition, the Skechers Sure Track Trickel also comes with a lining made from soft fabric to keep your feet comfortable and warm throughout the day.
There is also no problem of sweating on your feet after standing all day because of its side panels that feature tiny perforations. It helps provide the shoes enough breathability, allowing air to cool your feet. The footwear also features a removable insole that is topped with memory foam cushioning for perfect foot support and foundation.
These things along with its nitrile rubber outsole with slip-resistant feature and EVA midsole, the Skechers Sure Track Trickel is excellent for long working hours.
Top 5 Men's Shoes:
1. KEEN Utility PTC Slip-on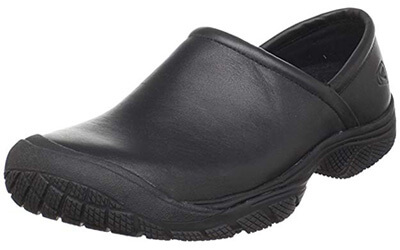 The KEEN Utility PTC Slip-on is made of durable materials, mainly leather with a rubber sole. It is specially designed with KEEN patented toe protection for utmost safety. Aside from being made from high-quality materials, the oil and slip-resistant outsole are also designed with a grip that exceeds most non-slip testing standards. These features can guarantee nothing but safety, especially for long work days.
In addition, the KEEN Utility PTC Slip-on is also designed with comfort in mind. It has top-notch cushioning which is a combination of cork, recycled PU, and memory foam. The cushion can perfectly contour to the shape of the feet, adjusting its support and giving the feet the foundation that it needs.
The KEEN Utility PTC Slip-on also features midsoles made from compression molded EVA which can guarantee comfort for working all day.
2. MOZO Sharkz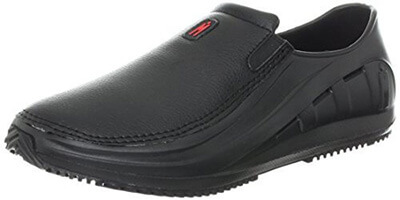 The MOZO Sharkz has the classic MOZO style which is quite a stylish work shoe. More than that, it has the features you need for working on your feet all day. It is comfortable, functional, and waterproof, which makes it perfect for use no matter the weather or workplace.
It is a slip-on work shoe which makes it easy for slipping in and out of. The MOZO Sharkz also features slip resistant traction with its non-slip rubber outsole. With this, you can make sure of your safety from slips and falls. Plus, it is made with synthetic 10% vegan upper.
This work shoe also features extreme breathability because of the side ventilation it comes with. It features dual goring insets as well as a cushioned insole with removable gel for ultimate fit and cushioning. You're guaranteed comfort even when standing all day.
3. Skechers for Work Rockland Systemic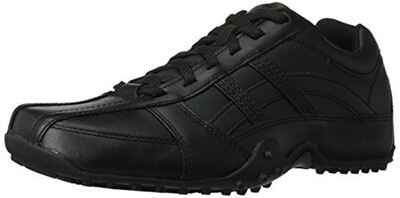 Skechers is among the popular names when it comes to work shoes, and its Skechers Rockland Systemic is not any different. It is excellent for people who are working on their feet for extremely long hours.
The Skechers Rockland Systemic is a lace-up sneaker with 1.25 inches' heel that is just enough to add a little height without subjecting your feet to pain at the end of the day.
This footwear is made with leather of high quality which makes it durable to everyday wear and tear. It is equipped with a removable cushioned insole which is enough to keep your feet in comfort the whole day.
Another feature that makes this footwear famous is its leather upper that also comes with bicycle-seamed toe and padded collar. The extremely grippy and slip-resistant outsole can also guarantee your safety whether you're working on dry or wet surfaces.
4. Skechers for Work Flex Advantage Mcallen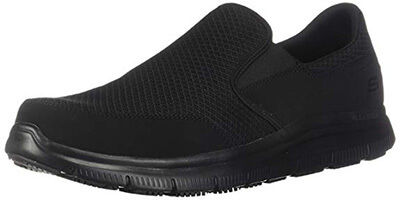 Skechers is an award-winning leader when it comes to lifestyle footwear, and it doesn't disappoint with its Skechers Flex Advantage Mcallen. It is overall comfortable footwear even when used for long periods.
While it is made from synthetic material for its upper and sole, the Skechers Flex Advantage McAllen is exceptionally durable. Its mesh fabric upper offers enough breathability, allowing air to flow and cool the feet to avoid unnecessary moisture when standing all day.
This Skechers Flex Advantage Mcallen also features slip-resistant outsoles offering extreme traction that will give you the confidence of safety from slipping in the workplace.
This footwear offers the best comfort with its padded collar and the cushioning. It features insoles made with memory foam which can perfectly adhere to the shape of your foot, giving it the best support for standing all day.
5. Skechers for Work 76759 Soft Stride Galley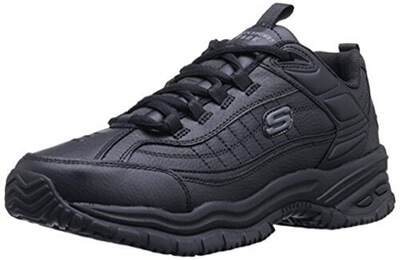 Another stylish but also great concerning performance footwear from Skechers is their Skechers Soft Stride Galley. It is made with a leather upper which guarantees its durability and is excellent for taking the daily tear and wear. It also features a lace-up work shoe design, both functional and stylish in its own right.
This footwear is made for rough work with its removable insoles made from PU materials designed for comfort. The rubber outsoles are also perfect for your safety with their slip-resistant feature, compliant to OSHA specifications.
With all these features, you get durability, protection, and comfort for your feet even when working on them all throughout the day.
Aside from that, this Skechers footwear also has a lot of versatility to offer. While it is extremely functional, it is also stylish with its mid-top sneaker-inspired design that comes with ripstop upper panels and composite toe.
Unisex Shoes
1. Crocs 10075 Unisex Bistro Clog
If you are looking for very light kitchen clogs, the Crocs Unisex Bistro Clog is among the most lightweight you can find. It is perfect for standing all day with its fully molded Croslite material.
It is soft and comfortable footwear that can offer the support that your feet need for long hours of standing. This pair is specially designed to help reduce the stress and relieve pressure on the feet and legs after long working hours.
Also, its Corslite material is also excellent for a lot of reason. For one, it is ergonomic, soft, and non-marking, but still offers superior grip which helps avoid slipping on the floor. This kind of material also perfectly conforms to the shape of the foot, giving it a custom arch support.
Also, the material that this Crocs footwear is made of is odor-resistant and easy to clean and dry. It is a unisex kitchen clog perfect for those who stand all day at work.
2. Birkenstock Professional Profi Birki
The Birkenstock Professional Profi Birki offers an easy and quick slip-on option. It has a thick, durable rubber exterior which is great even for heavy work. It features a cork footbed lined in cotton to keep your feet comfortable at all times.
This kitchen clog is designed with about 1.5 inches' heel that is only enough for additional heel support without straining your feet after a long day of work. Also, it is equipped with a certified anti-slip synthetic outsole for your safety. It makes the footwear an excellent choice for kitchens where there are often cases of liquid spills on the floor.
One of the great things about the Birkenstock Professional Profi Birki is that with its simplicity of design, it also comes with simplicity when it comes to cleaning. It has a removable insole which can be removed, and then the kitchen clog can be easily washed in the dishwasher.
It is simple but all around functional and comfortable.
What to Look for When Choosing the Most Comfortable Chef Shoes?
Finding the best footwear is no easy task. There are several factors that one needs to consider when shopping for the right footwear for a dedicated cook.
Comfort and Adequate Cushioning
Comfort is the most important thing to consider when on the market for the best chef shoes for sore feet, especially since chefs spend about 12 hours or more on their feet. Comfortable shoes will make the hours seem shorter. Opt for one with a sturdy platform and adequate cushioning for comfort. However, bear in mind that the padding should not be too thick as to make the shoe heavy. After all, you will be carrying these shoes around for most of the day.
Some of the best chef clogs today now have memory foam insoles. These cushion the feet and give arch support. This also minimizes the chances of heel spurs, plantar fasciitis, and other foot problems. There are also good kitchen shoes made from breathable material that helps prevent fungal infections and sores.
Lightweight Shoe
The long hours in the kitchen mean that the shoes' weight also matters. Thus, aside from other considerations, choose shoes that are light and flexible. The best shoes for kitchen workers would bend and move with the user if he or she reaches for something overhead or under the counter. A light shoe also means that the feet won't be as taxed or tired.
Shoe Durability
Cooks experience heavy pans and sharp knives dropping on them, along with hot oil and food. These can cause considerable damage to the feet's skin and bones. This is why some chefs opt for shoes that are durable. Some even get kitchen shoes with a composite or steel toe for extra protection.
Good Arch Support
The best shoes for working in a kitchen are the ones that provide good arch support. This is particularly crucial for women as their feet tend to have higher arches. Arch support is also important for those with flat feet, but arch support differs per shoe.
Shoes come with low, medium, and high support, and one must match the arch of the feet to the support needed. For instance, those with flat feet should avoid shoes with high arch support as it can cause bruising in the middle of the feet or damage the metatarsals.
However, adding an arch support to the shoe will take up additional space. This could mean getting a shoe that's half a size larger to accommodate the space that will be taken up by the insole. Before getting them, try it on and walk around. Check to make sure that your toes have enough space to wiggle and that they don't touch the end of the shoes.
Resistant to Spills and Stains
Even though it's primarily for work, chefs and cooks undoubtedly want nice-looking shoes. They also want footwear that's durable enough to last a year or two. In this case, look for shoes that have been coated with special protective agents as they're more resistant to spills and stains. These types of shoes are also easy to wipe clean.
Good Traction on the Soles
The best footwear for chefs are those with outer soles that have deep grooves. These notches help minimize slips and falls. When looking for kitchen shoes, choose brands with patented slip-resistant features. This is a good sign that the shoe manufacturer used special materials and carefully considered the design to prevent slips.
Non-skid Shoes with Good Grip
People who work in kitchens understand how important it is to choose the best non-slip kitchen shoes. While line cooks and chefs might be limited in their movement since they need to stay at their statioreliens, the wait staff and other cooks are always rushing around the kitchen. The speed required to do their jobs means that their shoes have to be resistant to skids. They should also have a good grip to prevent falls that might injure them or endanger the other staff.
Appropriate Color and Style
There's still some misconception that the best kitchen clogs are clunky and drab. Luckily, that's not the case anymore as there are cute kitchen shoes for men and women. They come in a wide variety of styles and colors as well, which is good as many chefs go to the dining room to greet and talk to guests.
While good chef shoes have to be chosen primarily for safety and comfort, you should also look for pairs that you find stylish. Think about the famous chef Mario Batali. He's known for wearing orange crocs that he claims are both sturdy and comfortable. When it comes to choosing the best shoes for cooks, make sure that it meets the usual standards of safety and comfort before thinking about its appearance.
The style of shoes is also important. Lace-up shoes usually have no place in a kitchen environment. They become a hazard if the laces come untied. It can also create a sanitary problem if a cook stops to tie a shoe and forgets to wash his or her hands afterward.
Why are Kitchen Shoes Different from Others?
Kitchen shoes are different from other footwear in the same way that steel-toed boots are. Both shoes are designed for unique and potentially dangerous environments.
A lot of people undoubtedly think that chefs or cooks can get away with using a good pair of sneakers or boots to work. But that's so far from the truth. The best chef shoes are specially designed with features that allow chefs to do their job well and keep them safe.
Things happen very quickly in a kitchen, and there are a lot of ways for things to go wrong. For instance, the area is often wet and slippery due to soup being spilled or water coming from the dishwasher and sink as the staff cleans. Kitchen work is done at a very fast pace, and the staff is always in danger of slips and falls due to food and oil that fell on the floor. Meanwhile, chefs work long hours, some of which are spent in a stationary position.
Using rubber shoes or other shoe styles in this situation would only result in injuries. This is why the best kitchen work shoes are designed in a specific way. They have to be easy to slip on and off, have non-skid soles, be well-cushioned, comfortable and offer arch support. These are features that other shoes don't have.
Are Kitchen Shoes for Men Different from Women's?
Yes, men's kitchen shoes are different from women's. Admittedly, both men's and women's kitchen shoes carry the same vital features. Both have to be comfortable and well-cushioned with padding to provide good support for the feet. They should also have good traction on the soles since the danger of slips and falls due to grease, spilled food, water, and soap are always present. The best shoes for chefs should also be non-slip, with tops and sides that are resistant to spills and stains.
Despite these basic similarities, kitchen shoes for men and women are different. Women should not wear men's kitchen shoes and vice versa. First of all, good kitchen shoes for men are naturally larger as men's feet are broader and longer. Meanwhile, women need shorter and slimmer shoes. They also require shoes with higher arches for maximum comfort. This is because women's feet have higher arches. On the other hand, men have almost no arch in their feet, making them more flat-footed.
There's also the Q-angle factor. The Q-angle is defined as the incidence angle of the quad muscle against the kneecap. It should come as no surprise then that this angle is different in men and women. The Q-angle is reportedly slimmer in men, which is said to be due to men having thinner hips than women. Conversely, women's wider hips also mean a wider Q-angle. This results in pronation, the rotation in the feet that can cause injuries. However, this could be avoided if the shoe utilizes some special materials and design.
Dangers of Choosing the Wrong Kitchen Shoes
It might not be obvious but choosing the wrong kitchen shoes or getting a cheap one can have far-reaching consequences.
There are two things that you'll immediately notice if you got the wrong shoes for working in the kitchen. They lack comfort, and the durability appears to have diminished. Shoes that are not made from real leather or from other durable materials would need to be replaced more often. Most of the time, they don't give adequate protection against spills and sharp knives and could also be discolored.
The kitchen is full of hazards and choosing the wrong shoes can actually hurt a business in the long run. The National Safety Council has reported that over 275,000 falls happen annually in restaurants. These accidents can sideline valuable employees or cause injuries to chefs or cooks. There's also the possibility that the business might need to shell out money for medical expenses or liability lawsuits. These are additional costs that can drain revenues.
Conversely, ensuring that your employees are protected will help raise your company's insurance rating This is why some companies require their cooks to wear slip-resistant kitchen clogs while others have programs in place that will help employees purchase the best shoes for kitchen work.
What are the Best Shoes for Kitchen Work?
There's admittedly a large variety of kitchen shoes to choose from. But what are the best chef shoes out in the market today?
Some of the most durable and most comfortable chef shoes come from Birkenstocks, Crocs, Dankso, Merrells, Mozo Sharz, and Rockport Works. All are known for their high-quality footwear.
Dankso is known for its traditional open-back kitchen clogs. Their shoes are made from box leather, bull hide leather, and oiled leather which are materials that are easy to clean and are perfect for the kitchen's wet and greasy conditions.
No brand exemplifies the durability of a lace-up shoe than Rockport Works. It has a leather upper body and a formal and traditional design. The company boasts of an anti-slip heel that provides excellent stability on slippery floors.
Birkenstock shoes are standard footwear for hospitals and a lot of kitchens around the world. These shoes are waterproof, lightweight, and flexible. They're also resistant to grease and oil and offer good arch support.
Like Birkenstock footwear, Crocs' shoes are often used by people working in healthcare, hospitality industries, food service, and restaurants. These comfortable shoes for chefs are cushioned, durable, lightweight, and easy to clean. It has an enclosed shoe design and a contoured footbed, so the user still feels comfortable even after long periods of standing.
Meanwhile, Mozo Sharkz kitchen shoes are designed by renowned chefs Aaron Sanchez and Marcus Samuelsson. Their shoes are 100% vegan, lightweight, and come with side ventilation. They are easy to slip on and have an elastic goring that holds the feet securely in place. Mozo Sharkz chef shoes also come with gel insoles and slip-resistant soles.
These companies are said to offer the best shoes. Each brand and model has its own pros and cons. It's up to the chef to pick which one is a good pair of shoes.
Chefs and cooks spend long hours in the kitchen. To avoid the dangers of slips and spills, they need shoes that are sturdy, durable, and comfortable. They should also be resistant to grease and water and should provide adequate support for the feet. Knowing what to look for in the best kitchen shoes will make the search easier.
Sources:
EHSToday, Stepping Into the Kitchen: Foot Protection for Food Service Workers
Scribd, Food Service Workers Safety Guide
The New York Times, Chefs and Shoes: A Bond Forged in Battle