As a surgeon, you probably love your job and get enormous job satisfaction from it, but let's face it – it is not the easiest. Surgeons have a very demanding job as one of the most important members of the hospital team, and they are usually one of the busiest as well.
They are often required to perform many tasks at the same time, and they rarely get a minute to stop. While it's very important, the problem is that all of the standing and moving around you are required to do as a surgeon can leave your feet feeling a bit worse for wear.
Whether you are standing in an operating room, performing procedures for service users or working your way around the hospital, you will in most cases required to stand on your feet, and you need a good pair of shoes to support you. By choosing the best shoes for surgeons, you won't have to worry about any pain so you can focus on the task at hand.
10 Best Shoes for Surgeons in 2020
Women's Shoes
Men's Shoes
In this post, we will give you our top picks for shoes for surgeons to help you stay focused when it matters most.
Top 5 Women's Shoes
1. Dansko Women's Professional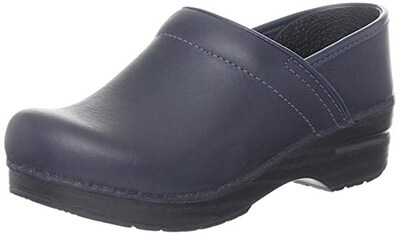 These are a popular option for those that are on their feet all day. There is plenty of space for the toes to breathe. This makes them more comfortable when you have been standing in them for hours at a time.
The style is a classic one and features stitching details. There are a lot of choices when it comes to color and pattern, so you don't have to stick to plain black unless you want to. Choose a plainer classic option or go all out with one that features bring colors.
The uppers are made from leather and are scuff-resistant. They are easy to clean so any spills won't be a big deal.
Where these shoes really shine is in the rocker-bottom shape of the sole. This naturally primes your body for maintaining a better posture. It is excellent for additional arch support.
The one caveat here is that you have to get the right size. If you don't, you won't have the full benefit of the arch support.
2. Crocs Unisex Bistro
These are specifically designed for those who have to stand for long periods of the day. Technically this design was intended more for those working in the restaurant industry, but they work well for surgeons too.
What we like about these is that they have amazing arch support. The soles are also shaped to support the toes and the metatarsal region more completely. The space in the toe area is roomy, and so your feet have more room to breathe. Overall, these are extremely comfortable.
The other aspect that makes them really interesting is that the insole is studded. This gives your feet a mini-massage with each step that you take.
When these were designed, the idea was to create a closed shoe to protect the feet from food spills. In surgery, these become equally useful to protect against blood, water, etc. What brings it home for this pair, however, is how easy they are to clean off.
3. Alegria Women's Classic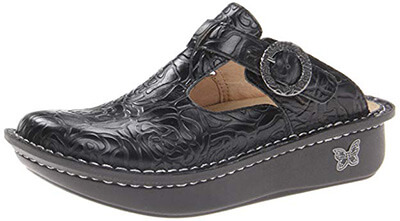 Crocs are extremely comfortable, but sometimes you want a shoe that has more character. Something that looks good as well. The Alegria clog can give you the ideal blend of style and support. It comes in a range of different colors and patterns and even features embossed leather in some models.
The outsole is the classic rocker shape allowing you to improve your posture naturally. Alegria's patented footbed design provides additional support.
It has cork in it to help absorb the impact when walking and to provide some bounce. The latex is for extra responsiveness and memory foam for more comfort. You can remove this insole and replace it if you like but you aren't likely to want to do that.
These are light and comfortable to wear and provide excellent pressure relief for your feet. The style of the uppers helps to maximize comfort by improving breathability.
4. Dansko Women's Pro XP
You would be forgiven for thinking that these were the same as the Dansko Pro Mules. They do look very similar. The primary difference is that you can remove the insert from the Pro XP. You cannot do that with the other model. This becomes important if you need to use a custom-made orthotic insert.
Aside from that, you get the same great features. There is also a lot of choices when it comes to the pattern and the finish. The style and stitching are almost identical in both cases. These also feature a roomy toe box.
They are leather uppers. This, in combination with the roomier toe box, ensures excellent breathability. They won't scuff easily and are easy to clean and care for.
The soles have the same rocker-bottom to help minimize fatigue.
The insert provides an extra degree of comfort when it comes to this model if you decide to use it.
5. Easy Spirit Women's Traveltime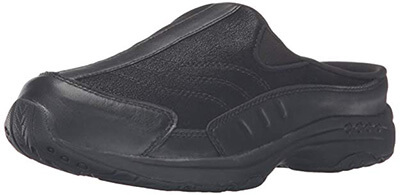 These are designed to be extremely comfortable and come in at a great price. The uppers are made of suede and mesh for maximum style and comfort. These are slip-on so perfect for when you need to get ready in a hurry.
They come in a variety of different patterns and colors so you can express yourself nicely.
They feature an insole that is padded to provide extra comfort. This does an excellent job of reducing the fatigue associated with standing all day. The insole can be taken out if you don't want to use it.
The collar of the shoe is padded and will sit a little lower on foot. This makes a huge difference when slipping the shoes on and off. The goring on the side helps keep the shoes in place when they are on your feet.
Top 5 Men's Shoes
1. Merrell Men's Encore Gust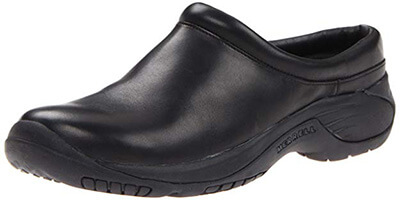 These slip-ons are perfect for the surgeon on the go. They have classically good looks and will easily move over from work to smart casual when you need them to. The uppers are made of leather and are ideal if you want the convenience of a slip-on.
The lower back of the heel enhances the slip-on action. The collar provides extra comfort through padding and helps reduce friction. It enables you to deal with the new shoe blues and reduces blistering at this stage.
The uppers are easy to care for and to keep clean. The shoes breathe extremely well and so can be used every day.
The outer sole provides excellent traction because of the M-Grip pattern on the sole. It is non-skid in wet and dry conditions.
The heel feature's Merrell's patented air cushion, and this is what you will like most about these. It relieves the pressure on the heel caused by standing for hours and is highly shock-absorbent.
The foot frame is made of EVA that has been compression molded. The provides arch support and stability. It enhances the comfort.
2. OOFOS Unisex OOcloog
These are the most contemporary-looking shoes we have looked at today. They have a smooth and sleek appearance and are perfect if you prefer a minimalist style. They are a clog so can be slipped on and off easily.
The closed in toes can be helpful in protecting your feet from spills during surgery. It is also useful if the operating theater is a little too chilly.
The uppers are made of Nubuck leather. They breathe very well and will hold their shape over time. They may stretch a little, but this is normal for leather. The sides also have ventilation to help increase the circulation of air.
The arch support is what really makes these extremely comfortable over the long term. The foam used in the insoles has been patented by the company and is 37% more effective at reducing impact than standard foam.
The shape of the sole and footbed allow your feet to move naturally but five them optimal support.
3. KEEN Utility Men's PTC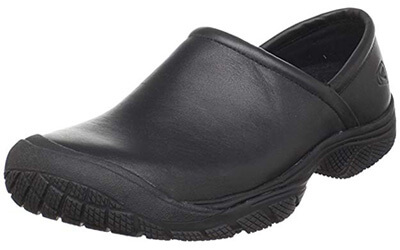 Keen really excels when it comes to work shoes. These are a simple style that offers maximum comfort and protection for your feet. They are quick to take on and off and can pass as a smart casual shoe as well. At a quick glance, you will get away with them for some smart dress occasions as well.
The outsoles are tested to ensure that they are slip-resistant in oily conditions. You are not going to slip up anytime soon with these on.
The uppers are made of leather and will breathe easily. They feature a rubber-wrapped toe to help protect against lighter items being dropped on them.
The real selling point for these shoes is the comfort aspect. The cushioning of the insole is provided by a mixture of cork, memory foam, and polyurethane. This ensures maximum comfort and durability.
The EVA midsole provides additional support and pressure relief.
4. Merrell Men's Jungle Moc Pro Grip
These are work shoes that look smarter than most. They won't pass for dress shoes by any stretch of the imagination, but they do not look sloppy either. They feature some excellent stitching detail to take things up a notch. They are not your typical slip-ons.
The uppers are made from leather so breathe well. The gore inserts are good-quality and feature flaps that make them a lot less noticeable. They are easy to take off and on.
The outer soles feature the company's Encore rubber for maximum traction on all manner of surfaces. Slippery and wet conditions are no match for these soles.
The main point for these is that they are extremely comfortable thanks to the foot frame. This is another product patented by the company to provide optimal comfort. The midsole features EVA foam for added comfort. The arch shank reduces the impact felt when stepping. The insole is removable.
5. Birkenstock Professional Unisex Profi Birki
Birkenstocks are known the world over for their simple design. They are German engineering at its best. Simple and comfortable, what makes these shoes work is that they mold themselves to the shape of your feet. After a few days of wearing them, they feel extremely comfortable.
The cork in the heel of the shoe is what makes the big difference here. It is excellent at shock-absorption and provides a springy, responsive surface for your feet. The shoes slip on and off very easily.
The uppers are made of polyurethane. This could be a problem when it comes to breathability in warmer climes.
In the pro column is that the outer sole is certified anti-slip. The shoes can be washed very easily. The company even says that you can remove the insoles and put them in the dishwasher. Personally, we'd rather stick to washing them by hand instead, but you might like that feature.
Surgeons can work insane hours with most of that time spent standing. The last thing that you need is tired and aching feet on top of crazy hours. Our top picks all have one important thing in common – comfort.
We have also stuck to more stylish options for the most part. There is bound to be something for everybody on our list.
What Type of Operating Room Shoes Do Surgeons Wear?
Many surgeons have similar requirements and tend to opt for a slip-on shoe to save time and make it easier to remove or put on the shoe. As well as convenience, the advantage of these types of shoes is that they are easy to clean, durable, stable, reliable and more. For a more comprehensive list of features about what shoes surgeons should wear, see below.
How to Pick the Best Operating Room Shoes?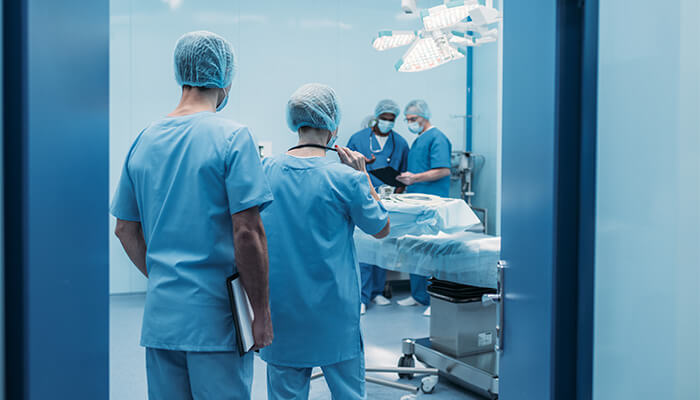 Comfort
No matter what task you are performing, you will always want the shoes you are wearing to be as comfortable as possible. Standing for hours on end can cause the feet tremendous pain, as well as pain to other parts of your body and a comfortable shoe can help eliminate it. One way to determine the comfort of your shoe is to take the size and shape of your foot into account. Depending on how wide or narrow your feet will determine how comfortable a shoe is, so if your feet are wide for example, you'll need to consider a wide fitting shoe. You also need to ensure the shoe fits correctly on your foot, to make sure that the shoe is neither too tight or loose.
Cushioning
When deciding on the best pair of shoes as a surgeon, cushioning is going to be a very important aspect of your decision to ensure optimal comfort and support. You want to look out for a pair of shoes that offer midsole cushioning because the middle of the foot is where the comfort begins. The most commonly used material for midsole cushioning is polyurethane and ethylene vinyl acetate, so look out for this when choosing a pair. A good quality insole may also be beneficial for added cushioning and support if you are wearing your shoes for many hours at a time too. Cushioning in general will help support the foot throughout the length of a working shift, and will help improve the strength of your foot in the long run too.
Traction
When working in a hospital, you will need a shoe that has a well-gripped slip resistant outsole to optimize your safety and protect you from falling against any slippery surfaces you may encounter. There are many durable materials that are slip resistant, but rubber is one of the most commonly used materials. Rubber is waterproof which is ideal for any spillages; it is lightweight which will feel more comfortable and it is a relatively cheap material, so you don't have to spend huge amounts of money on a good pair of shoes.
Arch Support
A supportive arch that is built in to the shoe will help better protect and support your feet throughout any tasks than regular shoes without padding. The arch in your foot takes a lot of the weight for every step you take, and it needs to be supported to help keep your feet as strong and functional as possible. The height of the arch varies among each individual, so it's important you choose a shoe that reflects the height of your arch. A well supported and strong foot arch can also help prevent any musculoskeletal problems down the line that could potentially lead to injury or damage to the foot and other parts of the body in the long term.
Stability
The best shoe for a surgeon needs to be able to keep feet stable as much as possible. For stability, the shoes need to be fairly wide in size to cover more surface area, and since you are required to stand for long period of time, the shoe should never cause any pain or discomfort from tightness. Look for a surgical shoe that has a stable heel to help keep you strong on your feet and to help prevent any slips or falls.
Ventilation
There is a good chance that your feet may become hot and sweaty when working in the hospital, so you will need a shoe that allows the feet to breathe and provides plenty of ventilation. Make sure that when choosing the best OR shoes that the material they are made from help your feet breathe with ease for maximal comfort. Not only will a breathable shoe help to keep your feet feel more comfortable when you are under pressure, but it will also help to maintain better foot hygiene and in most cases will be easier to clean.
Durability
When choosing a pair of shoes, you need to make sure that they are sturdy and durable so they can withstand against wear and tear from walking around all day. There are plenty of high-quality materials to choose from at a reasonable price, so you won't need to spend a lot of money when purchasing them or from needing to replace them regularly.
What Are the Other Considerations?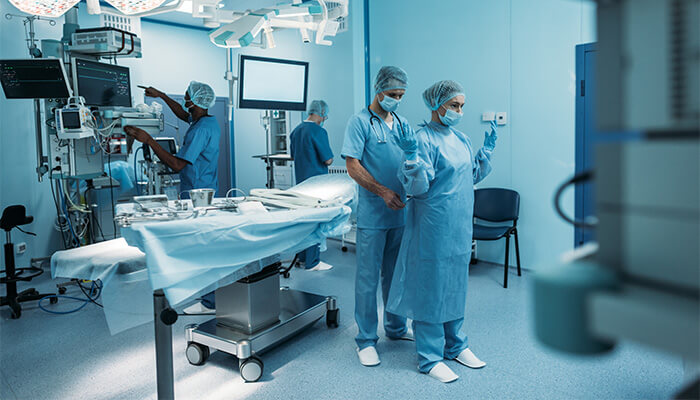 Easy to Clean
Hygiene in the hospital is very important for the wellbeing of your patients and staff alike, so you need to make sure that the material of the shoe is easy to clean to maintain safety. It is likely you will be dealing with all sorts of spillages too and having a pair of shoes that is easy to clean will make your job easier.
Easy To Wear
At certain points in the day, you may need to take your shoes off and stretch out your legs. Having a pair of shoes that don't take huge amounts of time or effort to put on or remove your shoe. Some surgeons even take their shoes off in the theatre, so having a pair of shoes that are easy to put on when you need them will help you to save time.
Choose the Right Size
It might sound like an obvious one, but you want to make sure this isn't overlooked. The right size shoe will help make the shoe more comfortable and reduce any risk of injury or crushing of your feet. As a general rule of testing for fit, you need to make sure that shoe that feels snug around your foot, while providing enough space in the shoe so that it doesn't feel too tight.
Conclusion
As a surgeon, you already have a tough enough job, so do everything you can to make things easier. Remember to prioritize practicality and comfort first and foremost, and we hope this guide is helpful for you to make an informed decision about which shoes to buy to make your job as straightforward as possible.
Sources:
CCOHS, Foot Comfort and Safety at Work
SilverStone Group, Footwear in Health Care Settings