As an invaluable member of the restaurant industry, the food servers have a very important job of making sure everything runs smoothly for both the staff and customers. In essence, they are the ones who see to all the customers and make sure they have the best dining experience possible.
Working in restaurants usually means working in a fast-paced environment, where staff will be running around all day, taking food and drinks orders, going up and down the stairs and that is barely scratching the surface. Not only are they expected to be here, there and everywhere, but work shifts can vary in length and sometimes the days can be very long. By the time it comes to the end of the shift, you probably feel exhausted, and all that walking around really takes its toll.
Waiting on customers a hard task in and of itself, and the last thing you need is sore feet on top of that. You know there has to be a better way to make the job easier, and we believe it all comes down to the shoe. Therefore knowing which shoes that will get you through a long shift is imperative, which is why we've created this guide.
While it might be tempting to choose a shoe that looks great, there are certain practicalities that you need to prioritize and consider first.
10 Best Shoes for Servers in 2020
Women's Shoes
Men's Shoes
Best Shoes for Restaurant Servers
Unless you have been a server, there is no way you can understand exactly how hard it can be. All that running backward and forwards to the kitchen can be really hard on your feet. And, when you are busy, it never lets up.
The right shoes are essential to keep your feet comfortable and prevent you from developing problems later on. In this post, we will go through some of the top shoe choices for servers.
Top 5 Women's Shoes
1. Skechers for Work Women's Soft Stride-Softie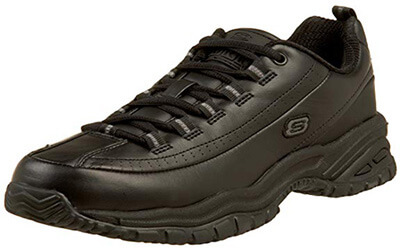 When you are in the weeds, these shoes will prove their weight in gold. They look good, and they feel great on.
The uppers are leather with great stitching to ensure maximum durability even with heavy use. The leather is supple and comfortable on your feet. The more relaxed fit means that your toes have space. This, in conjunction with the leather, makes the shoes breathable.
These are lace-ups so there is no need to worry about shoes slipping off at inopportune moments.
The soles are skid-resistant, something that is very useful for a server. They are made from rubber and will cushion your foot from the worst of the impacts. You will be able to race to your patrons all day.
The insole is contoured to provide extra support for the arches and more padding. They can be removed or left in as you like.
2. Skechers for Work Women's Eldred
Looks are not as important as comfort, but it is nice when a shoe has both. This design features an embossed, inlaid design instead of the standard perforations. If you like something that not everyone will have, these could work well for you.
Comfort-wise, these are our favorite pick. The leather uppers are fabric-lined for maximum comfort.
Skechers have used their standard molded insoles with memory foam uppers. This extra padding can make a world o difference when it comes to a long work day. The insoles can be removed if you prefer.
The soles are made from rubber and have excellent traction. You couldn't really skid around in these, even if you were trying really hard. The soles help to cushion the impact and so relieve the pressure on your feet.
If we could have changed one aspect, it would be to add in some more colors. These only come in black and white.
3. Skechers Performance Women's Go Walk
You are either going to love the look of these, or you are going to hate it. We don't feel that there is a middle ground here. The style is very pared down and simple. But don't let that put you off. These are designed to be one of the most comfortable pairs of shoes you will own.
They feature the classic Go Walk design. They are slip-ons and are what Skechers designates a recovery shoe.
The uppers are made from fabric that is designed to keep your feet cool and comfortable. The fabric is responsive and allows for a snug but comfortable fit.
What makes these special is the Resalyte cushioning. This is very light-weight so will not weigh down your feet. It offers excellent support and is very responsive.
The outer sole features a circular pattern that is not only cool but allows more responsiveness, no matter what the terrain.
4. Skechers for Work Women's Ghenter Bronaugh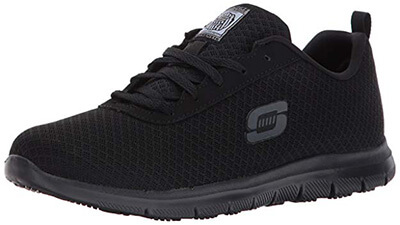 If you are not into the leather scene, these shoes provide a stylish alternative. The uppers are made of mesh fabric that is light and comfortable to wear. The fabric provides a more relaxed fit than you would get from leather. It is a lace-up design.
The sole is made of rubber and highly skid-resistant. They stand up well – even for use in the kitchen and slippery surfaces. The sole has been designed to help cushion your feet over various and different surfaces.
The arch support is pretty good. The insoles are the standard memory foam-topped inserts. You can swap them out for your more customized inserts if you like.
If you do have problems with your arches, we recommend you do this. The arch support here is not very high.
Overall this is a very hard-working pair of shoes that will last well. The mesh pattern makes them very interesting.
5. Klogs USA Women's Naples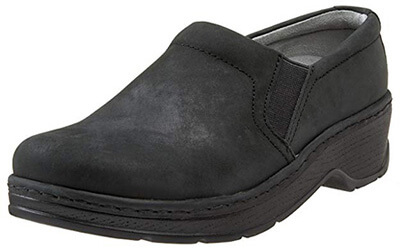 Comfort-wise, these are as good as Crocs. They just look more streamlined. What is great is that you don't have to stick to plain old black. The uppers are leather but come in a range of different finishes, colors, and patterns.
Choose a basic suede finish for a more understated look or splash out on a brightly pattern patent leather look. With choices like Blackberry and Rose Garden, there is sure to be something you like.
The anti-slip outsoles are perfect for use in oily or wet conditions. This makes them ideal for wearing in and out of the kitchen and on the dining floor. They are made from polyurethane and offer the best traction of all our picks.
The insoles are also made of polyurethane and crafted to provide extra cushioning. They can be removed if need be. Together, though, the soles and insoles make an unbeatable pair when it comes to comfort.
Top 5 Men's Shoes
1. Crocs Unisex Bistro Clog
Okay, so Crocs might not win the award for the best-looking shoe, but they are undeniably comfy. These ones are designed for use by those in the restaurant industry, or those who are on their feet all day. They are made for those hard days.
The soles are thicker at the metatarsal and toe area as these take the most strain when you are walking. They have a non-slip underside. The arch support has been taken up a notch so that you get the perfect balance between support and comfort.
The insole features small nubs that massage your feet every time you take a step. It helps to keep your feet feeling refreshed.
The upper is fully enclosed to protect your toes from any spills and potential food burns. The shoes are simple to keep clean – you just need to use tepid, soapy water.
2. Skechers for Work Men's Felton
These are a casual-style shoe that could also pass as smart casual. They are very comfy and allow you to really gain traction as a server. Seriously, you are not going to slip anytime soon with these on. The outsole is completely OHSA compliant.
The uppers are made of synthesized leather with double-stitching detail. The collar and flap of the shoe are padded for additional comfort. These are lace-up shoe so you can get them nice and snug. The cut is more relaxed in the toe area to avoid pinching.
The insole features memory foam on the top to make it a whole lot more comfortable. The insole provides excellent support and the extra cushioning makes a lot of difference. If you prefer to use your own insert, you can easily remove these ones.
The midsole is jerk-resistant to enhance your comfort further while wearing them.
3. Dr. Scholl's Men's Harrington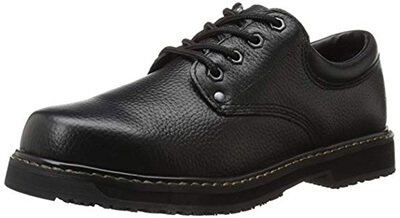 These lace-up shoes lean towards the smarter side of smart casual. It is a simple design that won't date easily. You can choose between Black and Bushwacker. The latter looks more casual and has a brown finish to it.
The leather uppers are made from leather and hold up really well. The shoes breathe well, and the uppers are supple and easy to care for. A good polish every now and again keeps them looking as good as new.
The padded collar and tongue help enhance the overall comfort of the shoe, but it is in support of the insole that this shoe excels for servers. The insole has a gel cushion that reduces the impact of spending many hours standing.
The outer sole is slip-resistant and offers superior traction. The sole also helps to absorb much of the impact of walking.
4. Skechers for Work Men's Flex Advantage Mcallen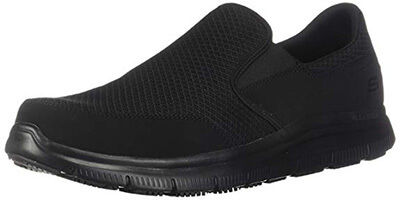 These have more of a slippery feel to them. They are not the most fashion-forward design, but they make up for this in spades by being comfortable. They are slip-ons so are a good option if you hate laces. We liked the fit of these and the convenience of just being able to slip your feet in.
The uppers are synthetic but are waterproof if this is a concern for you. The uppers have a mesh detailing to make them look a little more interesting. High-quality elastic is used on the sides to make sure that they stay while you are wearing them. The collar is padded for extra comfort.
The insole features a memory foam upper for additional support and comfort.
The outer sole features a slip-resistant pattern and is very durable. It is flexible and shock-absorbent.
5. Dickies Men's Athletic
These are also slip on but look quite a bit smarter than our previous option. The upper is made from leather and is easy to maintain. They are comfortable to wear in a warm environment because the leather breathes.
The collar is padded and designed to help prevent chafing and blistering. The goring on the sides has high-quality elastic that will last a good while. This helps keep the shoes on securely. To add extra comfort, there is a lining inside the upper to help wick moisture away.
The midsole is made from molded EVA for increased support and extra comfort. This insole is what makes the shoe special and a lot more comfortable.
The outer sole is slip-resistant and contains channels to help disperse liquids effectively. The traction with these shoes is excellent. The liquid dispersion is great if you have to do a quick cleanup in a messy kitchen.
Those are our top choices for you if you are a server. We have incorporated a few different styles to suit different tastes. Who says that great footwear has to be boring?
What Type of Shoes Do Waiters and Waitresses Wear?
There are a variety of different shoes a waiter or waitress can wear, and much of the decision comes down to a variety of factors that need to be taken into consideration, which we have outlined in the following.
How to Pick the Most Comfortable Server Shoes?
Good Shoe Fit
A good shoe fit is important because it will generally improve the comfort of the shoe and make your life at work easier. When it comes to how well the shoe fits, it will vary from person to person, but there are a few things you need to take into consideration that apply to everyone.
First of all, try the shoe on and see how it feels. Does it feel snug, or does it feel loose? You will want a shoe that feels snug around your foot, but with enough space so that it doesn't feel too tight. While a tight shoe might feel like a good fit, it will eventually start to hurt your feet and could end up causing problems later down the line. You also need to think about when how well the heel of the shoe fits on your foot, and whether there is plenty of space in the toe area to prevent your toes from feeling crushed. Having a backless shoe might look great, but they offer very little in the way of support and may not be ideal for waiting staff.
Comfort and Cushioning
When deciding on the best shoe for serving food, comfort and cushioning is going to be a very important part of your decision. Considering how much a waiter is required to be on their feet, you want to consider optimal comfort to ensure that by the end of your shift, your feet are not sore. One aspect of comfort means taking the size and shape of your foot in account. For instance, the width or narrowness of your feet will determine how comfortable a shoe is when trying it on. If your feet are wide, you will need to consider a wide fitting shoe. Likewise, if your foot is narrow, you will need to make sure your foot doesn't feel too loose in the shoe. A good quality insole may also be beneficial for added cushioning if you are wearing your shoes for many hours at a time. Some shoes have an insole built in, but some may require an additional insole putting it.
Good Arch Support
The natural arch in your foot is the part of your foot that helps structure the shape and functionality of your foot. Your foot arches take a lot of weight with every step you take, and in order to keep your feet strong and pain-free, the arches need to be supported by the shoe. Not only does this help with short-term pain, but a strong foot arch can also prevent musculoskeletal problems down the line that could lead to low activity or even damage to the foot long term, so it's important this is taken seriously. The height of the arch varies amongst each individual, so you need to choose a shoe that reflects the height of your arch. For example, someone with a low arch will need a shoe with built-in support to help elevate their arch and provide added stability whee the arch may collapse. This will help keep the foot in the correct position by stopping the foot from rolling inwards.
Shoe Durability
If you are serving food and running around the restaurant floor all day, your shoe is going to get worn a lot and will therefore need to be durable to sustain the work. Durability comes down to the material, so you will need a strong outer material to withstand the amount of pressure it will be under. Not only do you want them to last well without having to replace them regularly, but you also need the material to stand well against any food or drink spillages and any grease from the kitchen. A shoe with a tough, upper sole that has some waterproof material like leather would be ideal for kitchen servers, as they last a long time and will deal better with spillages than other materials.
Work Appropriate Shoe Style
While it's important that your work shoe is comfortable and functional, it's still important to think about presentable they. For example, a clog might be a practical and comfortable shoe, but it may not be appropriate. The reality is, you are part of the front of house team and the chances are, you need a shoe that looks professional that adheres to the dress code. Once again, a leather shoe would be a good option because they meet the criteria for comfort while adding a bit of style. They are also one of the easier materials to maintain the appearance of, which again is important when you're dealing with customers face-to-face.
High-Quality Materials
One of the most important features of the shoe for food servers is the actual material of that the shoe is made of. The most common materials used for shoes are leather, synthetics, textiles, rubber and foam. Synthetic materials are a great option from a price point of view and in some cases can be cleaned fairly easily. However, it is not a very durable material and it tends to wear out quite quickly. This means they may need replacing fairly frequently, which might not be ideal if you're working many hours serving food. Since you most likely need a shoe that is durable and presentable, you may want to consider a higher quality material like leather to make sure that they will last and meet the dress code requirement.
Conclusion
Now that you have got to the end, we hope you feel more informed about making the right decision when it comes to buying the best pair of shoes for food servers. Just keep in mind that your safety and comfort is a priority, so make sure you always take that into account by investing in and wearing the best pair of shoes.
Sources:
CCOHS, Food and Beverage Servers
HealthDay, Waiting for a Living
Minnesota Department of Health, Food Employee Illness Guidelines