No matter what your particular profession may be, working outside on concrete all day is a grueling task. You are required to walk to and from the place on a hard surface, and it can be very tiring for the body and the feet.
You need the right pair of shoes for the task, otherwise your feet can really suffer, and it can make working much harder than it needs to be. Not only can the wrong shoes be very painful for your feet, but it can also cause problems in other areas of the body too.
A good pair of shoes can not only help your feet, but they can help remove any pain from your back, your knees, your hips to make your job a whole lot easier. But knowing where to start when finding the best pair of shoes might be leaving you feeling a bit confused, which is why we are here to help you find the right pair.
Top 10 Best Shoes for Standing and Working on Concrete
Women's Shoes
Men's Shoes
Best Shoes for Standing on Concrete All Day
If you have ever worked in an industry where you had to stand or walk on concrete floors, you know they can kill your feet. Concrete provides no cushioning or give at all. That's why you need shoes that provide additional support and protection.
We have rounded up our favorites for both men and women. We rated them on comfort, support, and durability.
Best Women's Shoes for Standing on Concrete for Long Hours
1. Skechers for Work Women's Soft Stride-Softie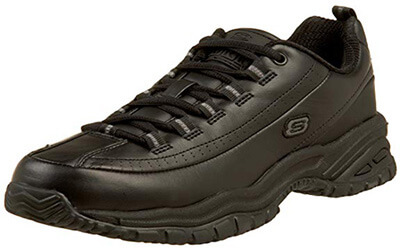 Great for those who need to pound the pavement, these are stylish and comfortable. Made of leather, they are durable. The leather is soft and supple for maximum comfort. The shoes breathe well and will be comfortable in even warm weather.
You don't have to worry about sweaty, sore feet after a day spent in these. The laces allow you to get the perfect fit.
They have slip-resistant soles that are OSHA compliant. These are made of rubber and built to last. The height of the heel is 1.5 inches.
They have a contoured insole that provides an extra cushioning element. These are removable if you don't find them comfortable.
What we liked about these shoes is the no-nonsense style and comfort. These look more like a sneaker but provide the kind of support you would expect from a work shoe.
Overall, great quality at a great price.
2. KEEN Utility Women's Flint Low
These are ideal if you are working on a construction site or in any area that your feet need a bit more protection.
The shoes are unusual in that they are crafted with more space for your big toes. This allows you a more comfortable experience in total. The toes are able to move and breathe well, preventing bunching up or pinching.
These are work shoes that feature reinforcement on the toes to cushion against impact. We wouldn't recommend that you drop a heavy steel rod on your toes, but they do offer a good deal of protection.
The shoes fit more like a good hiking shoe and are not as bulky as a typical work shoe. They feel light on the feet and very comfortable to walk in.
The arch support of these shoes is excellent. They are made of leather that has been waterproofed, so they are ideal for wet conditions. The rubber soles are durable and provide excellent traction.
3. KEEN Women's Presidio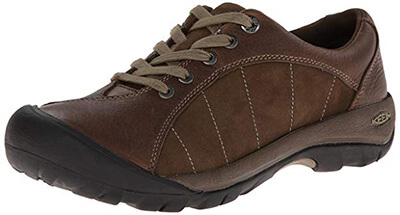 If you want a pair of shoes that will cross over from work to casual wear easily, these are your best bet. Made from water-resistant leather, these comfortable shoes lace up to provide the perfect fit. The leather breathes well and so is comfortable even in hot weather.
The footbed on the interior is molded to the shape of the foot and made of EVA for excellent arch support. This can be removed if you prefer.
The shoes do feature Keen's patented protection for the toes. The combination of the water-resistance and toe protection make these shoes ideal for use on construction sites or factory floors.
Keen is known for producing durable footwear that is both highly functional and stylish as well. The crossover here is accentuated by stylish double-stitching and the range of colors that are available. Who says that work shoes have to be ugly and clunky? Certainly not Keen.
4. Dansko Women's Professional Mule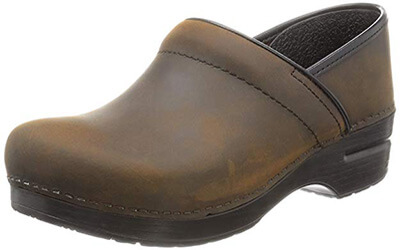 These come in a clog-shape that provide maximum space for your toes and foot. These are ideal for those with a slightly wider foot and will not pinch your toes.
The leather upper is classically styled and stitched and comes in a wide range of different colors. They can be easily cleaned using a damp cloth and warm soapy water. The leather is scuff-resistant, and scratches that do occur can usually be covered up with nail polish.
These shoes are designed for maximum comfort. The rocker-bottom sole helps to provide arch support. It will also help to protect your legs from the impact of walking or standing on concrete. They can be worn all day without cramping your style.
With these shoes, getting the right fit is extremely important, or you won't get the full benefit of the arch support. These should not fit too snugly.
5. Saucony Women's ProGrid Integrity ST2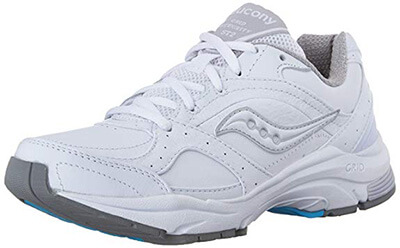 Unlike some of the other models that we have reviewed, these are not designed to be work shoes. These are sneakers, but they are designed specifically for those that need to walk a lot. They provide great cushioning between your feet and a concrete floor.
The leather upper breathes well and has a stretch zone incorporated into it. This helps the shoe mold to your feet better and ensures that they will not pinch your toes. The laces ensure that you get a secure fit.
The insole is cushioned to ensure that the shoes stay comfortable all day. The shoes are intended for neutral walkers.
The sole is made of flexible rubber that is durable and non-slip. It provides you with flexible support, ideal for when you need to grip more with your toes.
They come in white, silver, and stone.
Best Men's Shoes for Standing on Concrete All Day
1. New Balance Men's MX608v4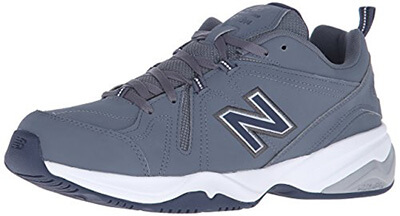 New Balance has been supporting athletes from over a hundred years now. Their products look good, but, more importantly, work really well. If you want a shoe that will help cushion the impact of walking on concrete, these are ideal.
The upper is made of supple leather, ensuring that the shoe fits comfortably and breathes well. The mesh tongue also helps to promote better air circulation around the feet. If you have sweaty feet, these shoes will feel comfortable for you.
They are slightly heavier and so may not suit you well if you want to do short, faster sprints. For endurance, though, they cannot be beaten.
There is a range of different colors and sizes to choose from. If you normally battle to find the right size, this would be a good option.
Overall, they are also not too badly priced. They are more expensive than your standard sneaker, but that is to be expected.
2. Brooks Men's Addiction Walker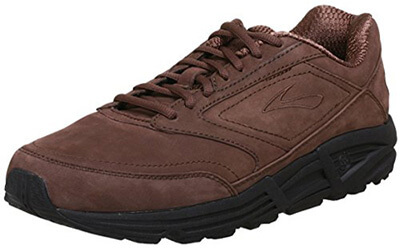 If you are prone to overpronation or have low arches, these shoes will provide all the support that you need. The leather uppers are supple and ensure complete comfort. What makes this model different from the others we reviewed is that it is completely lined for extra comfort.
The sock-liner is removable. The sole is what really sets these sneakers apart, though. It features fluid encased in parts of it to ensure additional comfort and bounce.
The rest of the sole is made up of the company's MoGo compound. This helps provide both support and extra cushioning. We feel a bit like an infomercial now, but that isn't all the support that there is.
This model features a roll bar to help provide extra support for the arches. The entire sole is flexible and allows for complete flexibility.
The outer soles offer superb traction. They are durable and made from silica. So they rate well for environmental-friendliness as well.
3. Skechers Men's Afterburn Memory-Foam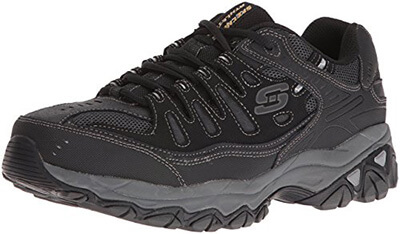 When it comes to the support for your tired feet, looks don't feature highly in the equation. That said, we do love the look of these shoes. Skechers has established a great reputation for combining comfort and style. These are no exception.
Officially designed for training, these make a comfy pair of shoes for those who need to spend a lot of time on hard surfaces. The uppers are made from leather and so highly durable and breathable.
The insole is made from memory foam for maximum comfort and durability. The foam helps to cushion your feet from the impact of running.
The sole is made from rubber and is highly durable. It features excellent traction and flexibility so that you can get the most out of this pair.
You have a range of colors and styles that you can choose from. These will do as well for work as they do for casual wear.
4. Rockport Men's Eureka
If you work in a more smart-casual environment where sneakers won't cut it, these are the right option. They are as comfortable as your favorite pair of sneakers, but smart enough to pass muster.
The leather upper is soft and supple and is lined in mesh for extra breathability. The interior has padded well for additional support. There is a removable insole, and the color is generous enough to provide ample heel support.
Rockport is another well-known brand in the shoe industry. They provide a great quality shoe that is going to be extremely comfortable. Sneakers are not going to work for every situation, so it is nice to see that there is an equally comfortable option that looks a bit smarter.
We do recommend checking their sizing chart carefully before selecting yours. If you need some extra width, you might want to consider taking a slightly larger size than normal.
5. Merrell Men's Jungle Moc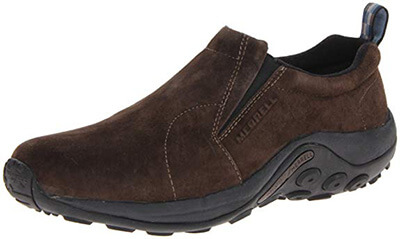 If you are not keen on lace-up shoes, these provide an interesting alternative. These are designed for comfort and will work as both casual and smart casual wear.
The uppers are made of suede leather and so comfortable and durable. The leather has been treated to make it water and stain resistant, so these work well in both wet and dry conditions.
The sole is made from rubber and boasts outstanding traction. It helps to cushion the impact of hard floors. The foot frame is compression-molded and made out of EVA to provide support and extra padding.
What we really liked about this option is the M Select Fresh tech using inside. The insole has an antimicrobial agent inside to prevent odors developing in your shoes. (It is not the sweat itself that causes the odor problem, but rather the microbes that break it down.)
We have given you a fair number of options to choose from. We tried to include a range of different styles to cater to different tastes. Our top picks are all comfortable, stylish and durable.
How to Choose the Best Shoes for Working on Concrete Floors?
There are many different options to choose from, but there are some features you should take into consideration. In general, the shoes should provide plenty of comfort and support for those long hours on the concrete, but for more details keep reading.
Midsole Cushioning and Comfort
When deciding on the best shoe for working on concrete, comfort and midsole cushioning is going to be an essential part of your decision. The reason the midsole matters is because it is the starting point of comfort. What you need to look out for is the material that the midsole is made from. The most common materials used for midsoles are polyurethane (PU) or Ethylene Vinyl Acetate (EVA). EVA tends to be lighter and offers much more in the way of padding and comfort, but it is less durable than PU. If you are going to add a removable insole, you may want to choose a shoe with a midsole that has no added reinforcements to allow the insole to provide the padding.
You also need to consider when looking at comfort are the size and shape of your foot. Depending on how wide or narrow your feet will determine how comfortable a shoe is, so if your feet are wide for example, you'll need to consider a wide fitting shoe.
Arch Support
Shoes with extra cushioning will provide your feet with more support than regular shoes without padding will, and arch support built into the shoe is one way to increase the support that we recommend you look into when considering the right shoe for you. The arch in your foot takes a lot of the weight for every step you take, and it needs continuous support to help keep it strong and functional. The height of the arch varies among each individual, so it's important you choose a shoe that reflects the height of your arch. A strong foot arch can also prevent musculoskeletal problems down the line that could lead to low activity or even damage to the foot long term.
Rubber and Slip-Resistant Outsoles
When working outside, you will need a slip resistant outsole to protect you from falling against any slippery surfaces you may encounter. There are many durable materials that are slip resistant, but rubber is one of the most commonly used materials. Rubber is waterproof which is ideal for poor weather conditions, it is lightweight and a relatively cheap material so you don't have to break the bank.
Width and Length
When you are working outside for any length of time and your shoes begin to rub, you already know the value of having shoes that fit correctly. You want to make sure that both the length and the width of the shoe are neither too long or wide to prevent rubbing and discomfort. One way you can test the length of the shoe is by placing your foot in the shoe and gently pushing your toe to the end of the shoe, with the laces undone. Then place your index finger down the back of the shoe, and if there is room for your finger without forcing it, you have enough space. If there is plenty of space, it might be too big so try a smaller size.
Flexibility
You may also want to consider how flexible the shoe is to optimize comfort. Being on your feet all day is tough enough, and being stuck in stiff shoes will take its toll. You may want to look at flexible materials like leather or synthetic, as these both provide free movement of your foot.
Lightweight
You also want to make sure that the shoe is lightweight, to make moving around easier. A heavier shoe will be harder to maneuver in, which if you're running will be very tiring for your feet. Synthetic materials tend to be lighter in weight, but make sure they are tough enough for poor weather conditions and durability as a whole.
Shock Absorption
By nature of walking on harder surfaces means the impact on your foot and heel is higher. That's why we recommend shock-absorbent shoes, to help absorb some of the impact incurred from walking on concrete and to help protect your feet and musculoskeletal system. The way they do this is by spreading the impact evenly throughout your foot rather than in localized areas, and the compression pads in shock absorbent shoes are there to provide extra comfort.
Durability
Since you will be required to walk across a hard surface all day, you will need a shoe that is durable. The shoe needs to be waterproof to protect against the rain and harsh weather conditions. It will need to be made from a tough upper material and sole to protect it against being scuffed on concrete for longer wear.
Breathability
There's a good chance that your feet may become hot and sweaty when you're working outside, and you will need to factor in hot weather conditions. That's why you need to choose a shoe that is breathable. Not only will a breathable shoe help to keep your feet feel more comfortable in the heat, but it will also help to maintain better foot hygiene and reduce any bad odor. Mesh or microfibre lining are breathable materials and are lightweight, but the downside is that some are not very durable so ensure that if you go for this material, the sole is tough enough.
Removable Insoles
Since you need as much support as possible, we suggest you buy good quality insoles to put in your shoes. Removable insoles are also a great way to add extra comfort to your foot arch and heel, and the benefit of having a removable insole is that they can mold to the shape of your foot.
What Kind of Shoes Should I Avoid on Hard Surfaces?
There a number of shoes that aren't suitable for the outdoors. As a rule of thumb, any shoes that are higher than 2 inches or completely flat, lack any built-in support or insoles, feel uncomfortable and stiff on your foot and don't fit properly, and lack breathability are the shoes to steer clear from.
Conclusion
While this article serves as an excellent guide to get you going, the questions you really need to ask yourself is which aspects are most important to you. Consider how often you will be wearing them and the environment you live in before you purchase the most appropriate shoes for you.
Sources:
Livestrong – Tips on Standing & Walking on Concrete Flooring
TheSpruce – An In Depth Look at Concrete Flooring
Commonwealth of Virginia – Walking and Working Surface Hazards