If you work in retail, you already have a hard enough job. Whether you are walking across the shop floor to assist a customer, putting stock on the shelves, seeing to customers in the fitting rooms or working across several floors, you are spending huge amounts of the day on your feet and it can get very tiring.
Let's face it, the last thing you need is a pair of shoes that don't do the job properly to make your life difficult. Not only can the wrong shoes be very painful for your feet, but it can also cause problems to other areas of the body like your back and hips too. That's why you need the right pair of shoes to help remove any pain and make your job a whole lot easier.
Finding the Best Shoes for Retail Workers might feel like a daunting task if you don't know where to begin, which is why we have written a guide to help.
10 Best Shoes for Retail Workers in 2020
Women's Shoes
Men's Shoes
Comfortable Work Shoes for Retail
Dealing with clients in the retail industry can be a fun experience. If your feet are killing you from standing all day, it becomes even worse. The right shoes can make all the difference. That's why we have set aside our top picks for those working in the retail industry.
We rated them on comfort, support, durability, and style.
Top 5 Women's Shoes
1. Alegria Women's Paloma Flat
We don't all want to resign ourselves to wearing clunky clogs or moccasins just for comfort sake. The Mary Jane styling of these shoes makes a really great alternative. That is not the only awesome style choice. The embossed leather uppers set these apart.
These are perfect for a smart casual work environment. But we are not just recommending them for their great style – they are comfortable as well.
The footbed can be removed and replaced with a comfort orthotic insole if need be. The insoles are also made of leather. This and the leather uppers help your feet breathe well.
The rocker shape of the outer sole helps to reduce the impact of walking on your foot and knees. It also helps you to maintain a better posture throughout the day. The outer sole helps to keep your feet from aching by reducing the pressure on the bones in the foot.
The shoe's style is roomier by nature and won't crush your toes. We do recommend going a size larger than normal as the cut is a little smaller.
2. Skechers for Work Women's Sure Track
These will work brilliantly with jeans or trousers. They are not as flashy as the pair we looked at before, but that is not a bad thing. These will blend in more.
The leather uppers are smooth to create a bit of a smarter look. They are not as casual as sneakers. Comfort was a top priority in the making of these.
The shoe breath well because of the leather. The toes are reinforced to provide better protection against stubs. (Also a good thing if you really need to kick a dreadful client.) The heels also feature reinforcement for improved durability.
The soles of the shoes feature the company's FlexSole tech to help them stay flexible and supportive. They have a non-skid surface which works equally well in wet and dry conditions. There is also an insole that features memory foam for extra comfort. This can be removed if you prefer.
3. Skechers for Work Women's Sure Track Trickel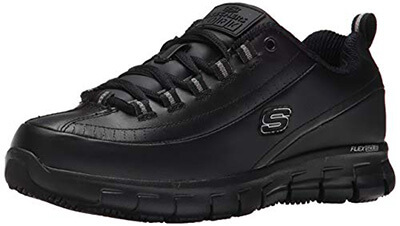 These come in black and are ideal for a more casual retail environment. They have been cut with a more relaxed fit around the toes for added comfort. The laces help you get your perfect fit.
The uppers are made of leather and so will breathe well. They also have perforated panels for the extra cooling effect. This makes them very comfortable in a warmer work environment.
The insole features a memory-foam lined top for extra comfort and support. You can remove this insole if you prefer to replace it with a custom-made orthotic. The combination of memory foam and the shock-absorbing ability of the soles makes these extremely comfortable, though.
The sole is the patented FlexSole and works well to protect your feet against the impact of standing all day. The bottoms are skid-resistant in all weather conditions.
4. KEEN Women's Presidio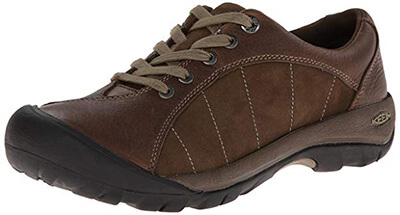 These are also a more casual style of shoe. They are best with jeans or trousers. If you are looking for a pair that works hard, these are a good match.
The leather is water-resistant, so these will work in wet or dry conditions. They are lace-ups, making it possible to get the kind of fit you want. Finally, the uppers breathe really well, keeping your feet cooler and more comfortable.
The shoes do come with a removable footbed. It can be left in if you want extra arch support or removed if you need to put in a custom orthotic.
The toes are reinforced to ensure that you have some protection from falling objects. This also helps to improve the durability of the shoe.
Best of all, they come in a range of colors. The plain black is probably the most versatile, but we liked the Blueberry and the racy Red pair as well.
5. Vionic Women's Walker
These are sneakers designed for those that have to walk a lot. This makes them ideal for those who need to run around all day. The shoes have been orthopedically designed to give excellent arch support.
The uppers are made of leather and lace up for the best possible fit. The uppers are lined with a polyester mesh that wicks moisture away. This keeps your feet dry and comfortable all day. The liner also has foam at its base to prevent it from creating friction with the skin.
The orthotic in the base is removable if need be. It was designed by a podiatrist to provide optimal arch support. It also features anti-bacterial material to help prevent odors developing in the insoles.
The midsole has a stabilizer built into it to help keep your steps even and reduce the impact of walking. The sole is flexible but supportive and provides great traction.
Top 5 Men's Shoes
1. Merrell Men's Jungle Moc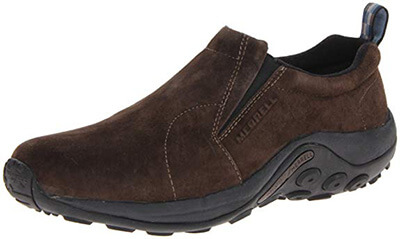 Lace-up shoes have their place, but sometimes you just want to be able to slip into your shoes and go. These are ideal for those occasions. Choose the suede finish for a more casual look or the smooth leather finish for something a little smarter.
In either case, the leather is hard-wearing, stain-resistant and water-resistant. Unlike your typical suede shoes, you don't have to worry too much about getting them wet.
The rubber sole offers great support and excellent traction on all surfaces. The foot frame is molded out of EVA so that you get extra support and padding.
If you are not keen on lace-up shoes, these provide an interesting alternative. These are designed for comfort and will work as both casual and smart casual wear.
If you have a problem with sweaty feet, these will help. The insoles contain antimicrobial properties to ensure that odor-causing bugs are stopped in their tracks.
2. NIKE Men's Air Monarch Iv
Nike is not a brand that disappoints. These trainers are no exception. They will take a lot of punishment and provide stylish support at the same time.
In terms of looks, these are more built-up than your classic sneaker. If you are looking for a low-key look that will pass for smart casual, the black pair is your best option.
The soles seem thicker than normal, but this is part of the attraction. There is a patented air-sole contained in the base of the shoe. This is what helps to reduce the impact of your feet hitting the floor.
The foam midsole is lighter in weight and so offers decent support. However, it might not be enough if you have fallen arches.
The upper is made completely of leather and so breathes well. It is very durable – the soles will give out way before the uppers do.
3. Skechers Men's Energy Afterburn Lace-Up
As with all Sketcher's models, these are designed to be comfortable and to turn heads at the same time. We liked the smooth black look best, but all the shoes look good. These are definitely in the sneaker class, so you aren't likely to get away with them in the boardroom.
If you work in a more casual retail environment, these work well.
The uppers are all leather that has been treated to be scuff-resistant. The collar of the uppers is padded for extra comfort.
The insole has been compression-molded and offers good support. The padded heel and the insole combine to absorb shock well. The midsole is built-up to give extra arch support where you need it the most.
Overall, these will do great duty as a work shoe, for casual wear and if you want to go out jogging. They are a versatile and durable brand.
4. Skechers for Work Men's Synergy Ekron
These shoes are a great alternative to steel-toed boots. They feature Skecher's reinforced toe for added protection but are very comfortable. They look a little smarter than plain sneakers and will work well in a smart-casual retail environment.
We liked the black/ lime model the best as it is the most striking. If you want something a little more low-key, there is a plain black or charcoal pair as well.
The uppers are a combination of Trubuck and synthetic leather. The upper is durable and comfortable to wear. The upper does breathe well and is cut a little bigger to give a more comfortable fit for your toes. They do have laces to get the perfect fit for you.
The insole has a memory foam layer for additional support and cushioning. The additional support makes a big difference if you are on your feet all day.
The bottom of the shoes have a slip-resistant surface and help to protect against electrical hazards.
5. New Balance Men's MW411v2
New Balance has a lot of experience in this industry, and it really shows. They come up with good-quality shoes that are really comfortable. These have a distinctive design that combines textured leather and perforations.
The end result is a good-looking pair of shoes that breathe really well. The shoes are lace-up and available in four different colors. The black pair could pass as a smarter shoe to the casual observer.
On to the important bits. The sole is rubber and flexible. It provides excellent support and will help cushion your feet from the impact of standing all day. It features a stability bar for additional support.
That said, we would have liked more in the arch support department. We did feel that the arch could have been built up a little more. There is space to add in a custom orthotic if you need one.
Working in retail is difficult enough without contending with aching feet when you get home. The shoes we looked at above will help to keep your feet nice and comfortable all day long.
How to Choose the Best Shoes for Working Retail?
There are many features and factors you need to consider when you're looking for the best shoe as a retail worker. You need to consider how long your shifts are, how often you will need to wear them, how many days you work, and what your top priorities are in a shoe. Since everyone has different requirements, we have created a list of different features for you to consider so you can choose the right pair for you.
Proper Shoe Fit
It may sound obvious, but you might be surprised to know that many people wear the incorrect size shoe for their foot. The reason your shoes need to fit well is because a well fitting shoe will improve the overall comfort and reduce any chance of injury in the long term. When it comes to how well the shoe fits you, there will be variance from person to person, but there are a few things you need to take into consideration that apply to everyone.
First of all, try it on and see how it feels. Does it feel snug, or does it feel loose? You will want a shoe that feels snug around your foot, but with enough space so that it doesn't feel too tight. Tight shoes may feel like a good fit, but it will eventually start to hurt your feet, especially after a long day. Another consideration you need to think about when looking at the fit of your shoe is how well the heel fits on your foot, and whether there is plenty of space in the toe area to prevent your toes from feeling crushed.
Good Arch Support
For optimal comfort and safety, you need good arch support in your shoes. The arch in your foot helps structure the shape and functionality of your foot, and your foot arches take a lot of the weight for every step you take. As a retail staff, you can imagine what kind of strain your foot is under with the amount of walking you do, and choosing a shoe that supports it effectively is imperative. Ideally, you would have a shoe with built-in support to help elevate the arch and add extra stability for where the arch could collapse. This will help keep the foot in the correct position by stopping the foot from rolling outwards or inwards by keeping it neutral and stable. Having strong arch support cannot only improve comfort but prevent musculoskeletal problems down the line that could lead to injury to the foot or even inactivity in the long term.
Proper Cushioning
When you are spending the majority of the day on your feet walking across the shop floor, a well-cushioned shoe with proper cushioning is very important. Retail workers are required to walk a lot, so you'll want to consider a shoe with proper cushioning to ensure that by the end of your shift, your feet are not sore. You want to look out for a pair of shoes that offer midsole cushioning because comfort begins in the middle of the foot. A high-quality insole may also be something to consider for added cushioning and support if you are wearing your shoes for many hours at a time. Proper cushioning will help support the foot throughout the length of a working shift, and it will help improve the strength of your foot in the long run too.
Flexibility
You may also want to consider the flexibility of the shoe as a retail worker. Realistically, being on your feet all day and potentially having to work quickly will mean you need a shoe that is going to be flexible for optimal comfort and ease. A good quality material you may want to consider for flexibility is leather, as it is a very malleable and stretchy material. It also looks smart if you have a strict dress code and it will resist well against wear. However, leather can be a bit more expensive so you may want to consider other materials and your budget before purchasing a pair of leather shoes.
Breathable Material
As a retail worker, the outer material of your shoe needs to be as breathable as possible to provide added comfort. There is a high possibility that your feet will become hot and sweaty on the shop floor from running around, which is particularly true in the warmer months of the year, so choosing a shoe that is breathable will help to keep your feet more comfortable. Breathable materials will also reduce any bad odor and maintain better foot hygiene too.
Low Heel
While a higher heel may look more attractive to you, you need to consider the practicality and comfort of having a heel. More often than not, a low heel of no more than two inches will improve comfort and allow you to move more quickly on your feet should you get a rush at work. It will also help support the arch of your foot and improve foot health than having a heel will. Equally, you want to make sure that your shoe isn't completely flat either since they lack the support and cushioning you need for long days.
Appropriate Toe Box
Depending on what type of store you work in, you may need to consider a shoe with a toe box. If you are expected to maneuver heavy pieces of equipment or stock around, you run the risk of things falling on your foot which could cause a lot of damage and injury. A toe box will help prevent any injuries should an item accidentally fall onto your foot.
Slip Resistance
On the shop floor, there is a possibility that you will be working in an environment where spillages occur. Maybe you work in a supermarket where customers or staff accidentally drop produce and spill food or drink on the floor. In which case, having a shoe that has a good grip could save you from falling and hurting yourself. A good material to choose from is rubber. Rubber offers very good slip resistance, it's light in weight, and it is a very affordable option.
Conclusion
Hopefully by the end of this article, you feel more equipped to making a good decision when it comes to buying the Best Shoes for Working Retail. Remember: your safety and comfort matter so make sure you always prioritize them by investing in and wearing the best pair of shoes.
Sources:
Odyssey – How To Survive Working In Retail
Lifehacker – How to Survive Long Holiday Shifts as a Retail Worker
Canadian Occupational Safety – Comfortable safety footwear can keep workers focused